Campus Messages
Daily Digest: SUNY New Paltz News
Posted on: Thursday, April 15, 2021 at 10:00 AM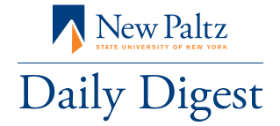 This newsletter is a daily source of campus news,
useful tips,
events
information, and updates about confirmed cases of COVID-19 in our community. Read more here.
IN THIS ISSUE
Coronavirus update: Six students have tested positive
Two New Paltz students are 2021 SUNY Chancellor's Awardees
Today is our third Mind, Body, Spirit Day of spring 2021
Students: Today at noon is the deadline to vote in SA elections
Updated guidance for faculty on how the Tenure Clock Extension will work on our campus
Women's tennis opens season with 9-0 win over Cortland
Photo Detail Challenge: Round 3
Events and resources
The latest from media
From our community: Finishing touches before the Engineering EXPO
Campus Photo Detail Challenge: Round 3
Let's play again! This building and tree actually camouflage one another pretty effectively... But which building is it?
First person to email communication@newpaltz.edu with the right answer gets a shout-out in tomorrow's issue. Good luck!
Events, resources and reminders

Engineering students are putting finishing touches on their projects and prototypes ahead of the 2021 Virtual Design EXPO on May 4. One team took advantage of some open time at the Athletic & Wellness Center to test their folding electric bike design.
The EXPO is the capstone event for undergraduate engineering students, challenging them to apply what they've learned toward an original innovation. This year's event will be presented virtually with video presentations for each project. Details to follow soon!
Pictured above: Nolan West '21 (Electrical Engineering), Patrick-James Piescor '20 (Mechanical Engineering), Armando Pavon '20 (Mechanical Engineering), Joshua Pisano '21 (Mechanical Engineering), Sarah Kisiel '21 (Mechanical Engineering)
Daily Digest readers: We want to hear from you!


We're always working to make sure this newsletter is providing students, faculty and staff with important and useful information. If you have news you'd like to get out to members of our community, we welcome
submissions* and ideas of all kinds:
Have important news to share with the SUNY New Paltz community?

Developed an innovative solution to improve remote teaching and learning?

Figured out a lifehack to help yourself stay positive?

Want to share a photograph with friends and colleagues?
Please just reply to this email or write to communication@newpaltz.edu and let us know what you would like to see in this space. Thank you!
*Note: Opinions expressed by our contributors
belong solely to their authors and
do not necessarily reflect the positions of SUNY New Paltz.
Message originally distributed via: SUNY New Paltz News