Campus Messages
Daily Digest: SUNY New Paltz News
Posted on: Friday, April 16, 2021 at 10:00 AM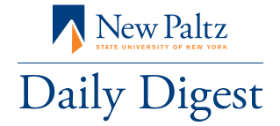 This newsletter is a daily source of campus news,
useful tips,
events
information, and updates about confirmed cases of COVID-19 in our community. Read more here.
IN THIS ISSUE
Coronavirus update: No new cases to report
SUNY campuses surpass one million vaccines administered
Update on the approved New York State budget
April 29 is the deadline to elect the S/U option for spring 2021 courses
This weekend! Live-streamed readings of "Romeo and Juliet" in a new modern translation
LGBTQ+ identified graduates-to-be are invited to our annual Lavender Ceremony
Tomorrow is Google Day at the Career Resource Center
Photo Detail Challenge Reveal
Events and resources
The latest from media
From our community: Scenes from theatre rehearsal
Campus Photo Detail Challenge #3: Sojourner Truth Library

With exams, final papers and projects coming due in a matter of weeks, we figured it made sense to showcase everyone's favorite on-campus study spot.
Our first correct answer came from Jennifer Freer, administrative assistant in the Department of Political Science & International Relations. Congrats to Jennifer and everyone else who recognized the walls of the STL through the trees. See you next week!
Events, resources and reminders

Sneak preview: Looking down on the stage where Theatre Arts students are rehearsing for this weekend's live-streamed reading of "Romeo & Juliet," in a new, modern translation presented in partnership with Play On Shakespeare.
Performances will be given at 7 p.m. on Saturday, April 17, and at 2 p.m. on Sunday, April 18. Tickets are pay-what-you-can and proceeds support student theatre programs.
Daily Digest readers: We want to hear from you!


We're always working to make sure this newsletter is providing students, faculty and staff with important and useful information. If you have news you'd like to get out to members of our community, we welcome
submissions* and ideas of all kinds:
Have important news to share with the SUNY New Paltz community?

Developed an innovative solution to improve remote teaching and learning?

Figured out a lifehack to help yourself stay positive?

Want to share a photograph with friends and colleagues?
Please just reply to this email or write to communication@newpaltz.edu and let us know what you would like to see in this space. Thank you!
*Note: Opinions expressed by our contributors
belong solely to their authors and
do not necessarily reflect the positions of SUNY New Paltz.
Message originally distributed via: SUNY New Paltz News