Campus Messages
Daily Digest: SUNY New Paltz News
Posted on: Friday, September 4, 2020 at 10:00 AM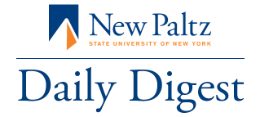 IN THIS ISSUE
Coronavirus update: No new cases to report as of 5 p.m. yesterday
Provost Lyman's September 2020 Report to the Faculty
Video rebroadcast: Town Hall "Check-In" for faculty and staff
Study abroad goes virtual! Learn more at the SUNY Abroad Fair, Sept. 9
Rosendale Romp with the Faculty Adventure Group, Sept. 4
Game on! Fall 2020 intramural sports and registration dates
TAs and GAs: Enrollment is now open for the Student Employee Health Plan
Video: A message to students from Interim Athletics Director Matt Giufre
FAQ of the Day: What is the status of the county's polling place on campus?
From our Community: A tour of the early September night sky from the John R. Kirk Planetarium
Events and resources
The latest from media
Updated: COVID-19 Dashboard
The College's tally of active cases has expanded to include information about on-campus student testing, positivity rates and quarantine

Matt Giufre, the College's interim athletics director and women's volleyball coach, recorded a short video message welcoming students back to campus and to the recently reopened Athletic & Wellness Center, and offering a reminder of the importance of taking every step to reduce COVID-19 transmission in light of recent positive cases in our community.
What is the status of the county's polling place on campus?

We will continue to host the District 9 polling location on campus, and we will work with the Ulster County Board of Elections to ensure this effort follows appropriate social distancing and other safety measures for voters.
The College's fall 2020 reopening plan is highly detailed and dense, and our corresponding list of FAQs runs to more than 10,000 words (and counting!).
In an effort to make this very important information more digestible for campus community members, we're highlighting questions and answers in this newsletter, one per day, as the fall semester approaches.
Please note: We are working to update and add FAQs as planning continues and this situation evolves. We will prioritize sharing the most current information in this space.
Upcoming Human Resources, Diversity & Inclusion Trainings


This self-paced, optional resource is live on Blackboard now
Faculty are encouraged to review the the Orientation as well, and point students to modules that are relevant to their classes
The "Looking Up" series of virtual shows from the John R. Kirk Planetarium continue this week, with guest direction by David Meer '21 (Physics & Astronomy). The latest broadcast provides a guided tour of the early September night sky, with a detour into some classic Greek myth.
Message originally distributed via: SUNY New Paltz News