Campus Messages
Daily Digest: SUNY New Paltz News
Posted on: Friday, February 12, 2021 at 10:00 AM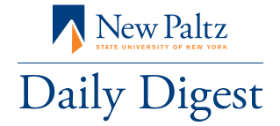 This newsletter is a daily source of campus news,
useful tips,
events
information, and updates about confirmed cases of COVID-19 in our community. Read more here.
IN THIS ISSUE
Coronavirus update: Two students and two employees have tested positive
COVID-19 testing: Friday is our make-up day for those who were unable to test earlier in the week
College forms new University Police Department Advisory Committee
New York State positivity, hospitalization rates continue to fall
Have questions about Financial Aid? Friday webinars have you covered
Peer Instructional Design Mentor Teachers drop-in hours resume today
Register for a Tax Talk with the Employee Assistance Program on Feb. 17
Faculty & staff: Still time to apply for the Manager's Toolkit program
Alumni sweehearts for Valentine's Day
Events and resources
The latest from media
From our community: Our alumni interview series continues with Stephanie Whiteman '12 (Black Studies/Psychology)
Alumni sweethearts RJ Rosa '16 (Visual Arts) and Kit Small '17 (Computer Science), both former basketball team members, returned to New Paltz this month to share a very special moment. RJ proposed at the Mohonk Preserve Testimonial Gatehouse, a location he chose because he was inspired by the view of campus through the archway. (I'm not crying, just something in my eye!)

Do you have a story or photo to share for Valentine's Day this year? We want to hear from you! Tag or DM us on Instagram or Facebook and let us know who you're celebrating with.
Events, resources and reminders

February is Compliance Review Month for employees
Please complete annual Policy & Procedure Acknowledgement, Workplace Violence Prevention Review and Title IX/Sexual Harassment Review by Friday, Feb. 26
All required reviews can be completed by vising my.newpaltz.edu

Our new Alumni Interview Series continues with a conversation between host Dynahlee Padilla '19 (Journalism) and Stephanie Whiteman '12 (Black Studies/Psychology). They discuss Stephanie's New Paltz story and how it led her to start a tutoring company during the pandemic to help parents and children close to home in The Bronx.
Daily Digest readers: We want to hear from you!


We're always working to make sure this newsletter is providing students, faculty and staff with important and useful information. If you have news you'd like to get out to members of our community, we welcome
submissions* and ideas of all kinds:
Have important news to share with the SUNY New Paltz community?

Developed an innovative solution to improve remote teaching and learning?

Figured out a lifehack to help yourself stay positive?

Want to share a photograph with friends and colleagues?
Please just reply to this email or write to communication@newpaltz.edu and let us know what you would like to see in this space. Thank you!
*Note: Opinions expressed by our contributors
belong solely to their authors and
do not necessarily reflect the positions of SUNY New Paltz.
Message originally distributed via: New Paltz News