Coronavirus Information and Resources
Active Student Cases *
6
For Apr. 21.
Active Employee Cases
0
For Apr. 21.
Total Cases Last Week
13
For week ending Apr. 16, 2021.
Recovered *
270
Since Jan. 1, 2021.
Total Tests Administered on Campus **
32,858
Since Jan. 1, 2021.
Positive Rate from On-Campus Testing **
0.62%
Since Jan. 1, 2021.
Total Students In On-Campus Quarantine
4
For Apr. 21.
Total Students in On-Campus Isolation
1
For Apr. 21.
Total positive cases among students who have been on campus since Jan. 1, 2021:
244
Total positive cases among employees who have been on campus since Jan. 1, 2021:
32
Total students residing in Ulster County who have reported a positive test to the College:
39
Fall 2020 (Aug. 24 - Dec. 31, 2020)
Total positive cases from on-campus population for Fall 2020: 75
Total COVID-19 tests conducted on campus in Fall 2020: 10,750
Positivity rate for COVID-19 tests conducted on campus in Fall 2020: 0.36%
Spring/Summer 2020 (March 1 - Aug. 23, 2020)
Total positive cases from on-campus population for Spring/Summer 2020: 31
* While our Active and Recovered case tallies may include individuals who were tested at off-campus facilities, these figures will not be included in the Positivity Rate calculation, which only counts tests that take place on campus.
** On-campus testing is performed by Enzo Labs, SHS and SUNY Upstate Medical University for all students and employees coming to campus. This figure reflects tests performed, therefore some test results may still be pending.
Active cases are defined as a confirmed positive COVID-19 test among individuals who have been on campus and may have exposed others. Learn more about our testing and tracing protocols here. This dashboard will be updated by 10 a.m. daily, Monday-Friday.
Daily Digest: SUNY New Paltz News
Posted on: 10:00 AM on Thu, 22 April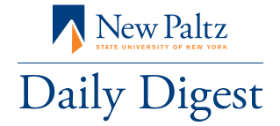 This newsletter is a daily source of campus news,
useful tips,
events
information, and updates about confirmed cases of COVID-19 in our community. Read more here.
IN THIS ISSUE
Coronavirus update: One student has tested positive
Vaccination appointments available April 22 & 23 at Dedrick's Pharmacy
Announcing plans to form a Carbon Neutrality Task Force
Student Association Election results for 2021-22 term
All are welcome to our virtual Scholarship Reception, tomorrow at 4:30 p.m.
The College Council meets today at 3 p.m.
An atypical Earth Day Fair in the Village of New Paltz
Another Photo Detail Challenge!
Events and resources
The latest from media
From our community: Softball gets a win behind a strong pitching effort
Campus Photo Detail Challenge: Round 4
We had to get some greenery into this Earth Day edition of our little photo contest. Can you ID the building behind these shrubs? First person to email communication@newpaltz.edu with the right answer gets a shout-out in tomorrow's issue. You got this!
Events, resources and reminders

A Guilty Verdict, a Sigh of Relief

Across the country, college students and leaders welcomed the outcome of the trial of Derek Chauvin, and renewed their resolve to stem persistent racial inequities in higher education

Inside Higher Ed, 4/21/21
The Softball team split their doubleheader with second-place Oneonta, led by a strong effort by Katie Quagliana '22 (Early Childhood Education), who pitched a complete game allowing only two earned runs.
Full recap and more photos @newpaltzhawks.
Daily Digest readers: We want to hear from you!


We're always working to make sure this newsletter is providing students, faculty and staff with important and useful information. If you have news you'd like to get out to members of our community, we welcome
submissions* and ideas of all kinds:
Have important news to share with the SUNY New Paltz community?

Developed an innovative solution to improve remote teaching and learning?

Figured out a lifehack to help yourself stay positive?

Want to share a photograph with friends and colleagues?
Please just reply to this email or write to communication@newpaltz.edu and let us know what you would like to see in this space. Thank you!
*Note: Opinions expressed by our contributors
belong solely to their authors and
do not necessarily reflect the positions of SUNY New Paltz.
Message originally distributed via: SUNY New Paltz News