Coronavirus Information and Resources
Active Student Cases *
3
For Jan. 20.
Active Employee Cases
6
For Jan. 20.
Total Cases Last Week
7
For week ending Jan. 15, 2021.
Recovered *
4
Since Jan. 1, 2021.
Total Students and Employees Tested On Campus **
470
For Jan. 20.
Positive Rate from On-Campus Testing **
2.13%
For Jan. 20.
Total Students In On-Campus Quarantine
10
For Jan. 20.
Total Students in On-Campus Isolation
3
For Jan. 20.
Total positive cases among students who have been on campus since Jan. 1, 2021:
5
Total positive cases among employees who have been on campus since Jan. 1, 2021:
8
Total students residing in Ulster County who have reported a positive test to the College:
2
Fall 2020 (Aug. 24 - Dec. 31, 2020)
Total positive cases from on-campus population for Fall 2020: 75
Total COVID-19 tests conducted on campus in Fall 2020: 10,750
Positivity rate for COVID-19 tests conducted on campus in Fall 2020: 0.36%
Spring/Summer 2020 (March 1 - Aug. 23, 2020)
Total positive cases from on-campus population for Spring/Summer 2020: 31
* While our Active and Recovered case tallies may include individuals who were tested at off-campus facilities, these figures will not be included in the Positivity Rate calculation, which only counts tests that take place on campus.
** On-campus testing is performed by Enzo Labs, SHS and SUNY Upstate Medical University for all students and employees coming to campus. This figure reflects tests performed, therefore some test results may still be pending.
Active cases are defined as a confirmed positive COVID-19 test among individuals who have been on campus and may have exposed others. Learn more about our testing and tracing protocols here. This dashboard will be updated by 10 a.m. daily, Monday-Friday.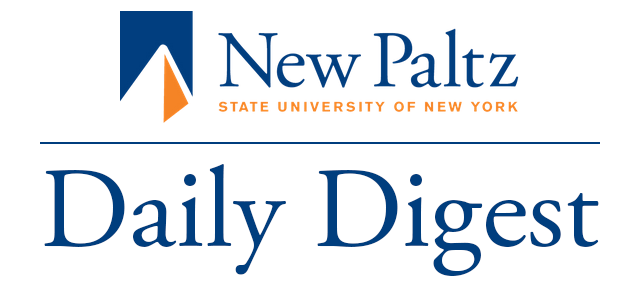 IN THIS ISSUE
Coronavirus update: One employee and one student have tested positive
Anna Conlan appointed new Director of The Dorsky Museum
Campus community mourns deaths of Joe Paparone, longtime professor of theatre arts, and Patricia King '60, former Alumni Council member
Inauguration programs from the Center for Student Engagement
From WAMC: The President's Microphone, by Lecturer Brett Barry
Assistant Professor of Art creates 12-foot-long tiger at the HVAMC
Events and resources
The latest from media
From our community: New album from Department of Music faculty out this week
Assistant Professor of Art Aaron Nelson designed and 3D printed 639 unique pieces for the 12-foot-long "Connector Series #2 — Tiger," which will be featured in the forthcoming Dorsky Museum faculty exhibition "Collective Consciousness."
Nelson generated each unique connecting piece using the computer-aided design programming language Grasshopper, printed them on campus in the Hudson Valley Additive Manufacturing Center and connected them by hand using hundreds of poplar dowels. The project took about six weeks to design, print and assemble.
Events, resources and reminders

Susie Ibarra's "Talking Gong," a new album of original compositions for percussion, piano and flute, is out this Friday, Jan. 22, from New Focus Recordings, in digital and limited vinyl formats.
The project has been years in the making for Ibarra, a widely heralded jazz and experimental percussionist, who debuted "Talking Gong" on campus in February 2018 alongside Assistant Professor Alex Peh and former McArther Genius Grant recipient Claire Chase.
Ibarra has sinced joined the Department of Music as an adjunct professor. Follow @susie.ibarra for more, including details about upcoming live-streamed performances celebrating the new album.