Coronavirus Information and Resources
Active Student Cases *
21
For Nov. 25.
Active Employee Cases
1
For Nov. 25.
Total Cases Last Week
19
For week ending Nov. 20, 2020.
Recovered *
32
Since Aug. 24, 2020.
Total Students and Employees Tested On Campus **
10,524
For Nov. 25.
Positive Rate from On-Campus Testing **
0.28%
For Nov. 25.
Total Students In On-Campus Quarantine
9
For Nov. 25.
Total Students in On-Campus Isolation
2
For Nov. 25.
Total positive cases among students who have been on campus since Aug. 24, 2020:
49
Total positive cases among employees who have been on campus since Aug. 24, 2020:
6
Total students residing in Ulster County who have reported a positive test to the College:
11
Total positive cases from March 1- Aug. 23, 2020: 31
* While our Active and Recovered case tallies may include individuals who were tested at off-campus facilities, these figures will not be included in the Positivity Rate calculation, which only counts tests that take place on campus.
** On-campus testing is performed by Enzo Labs, SHS and SUNY Upstate Medical University for all students and employees coming to campus. This figure reflects tests performed, therefore some test results may still be pending.
Active cases are defined as a confirmed positive COVID-19 test among individuals who have been on campus and may have exposed others. Learn more about our testing and tracing protocols here. This dashboard will be updated by 10 a.m. daily, Monday-Friday.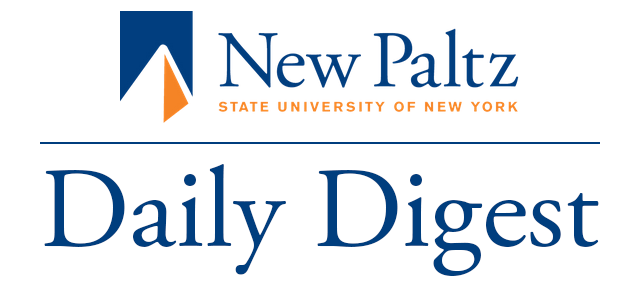 IN THIS ISSUE
Coronavirus update: No new cases reported as of 5 p.m. yesterday
SUNY Chancellor talks exit testing, spring semester in WAMC interview
Intercession hours (8 a.m. - 4 p.m.) begin Friday, Nov. 27
Anthropology students, faculty developing survey on vaccine preparedness
Student Union and Atrium hours of operation for winter 2020-21
Mid-Hudson Migrant Education Program calls for support for children in need of school supplies
This month's virtual book display at the Library is all about self-care
The Daily Digest will be back on Monday, Nov. 30 - Happy Thanksgiving!
Events and resources
The latest from media
From our community: Make a fitness plan and follow through with the VOLT app
It's been a challenging semester, but there are great things on the horizon.
We're thankful for all the staff who worked 'round-the-clock to keep our campus clean, safe and operational; all the faculty who continued providing high-quality learning experiences in uncertain circumstances; and all the students who persevered, balancing school, work, stress, family, friendships, mandatory testing and everything else life threw at them this fall.
Most of all, we're thankful to everyone who adopted a "We Not Me" attitude this semester. It takes a community effort to adjust to life in a pandemic, and the SUNY New Paltz community rose to the occasion. Thank you all, and have a wonderful holiday.
The most important step you can take toward your fitness goals is the first step. The VOLT app, now available to all New Paltz students, can set you up with a program, a trainer and progress trackers to help you stay accountable and on track, whether you're in the gym or working out at home.
See more in this video from Wellness & Recreation, and sign up for the Winter Accountability Challenge here. You got this!