Coronavirus Information and Resources
Active Student Cases *
4
For Oct. 30.
Active Employee Cases
2
For Oct. 30.
Total Cases Last Week
4
For week ending Oct. 23, 2020.
Recovered *
15
Since Aug. 24, 2020.
Total Students and Employees Tested On Campus **
4657
For Oct. 30.
Positive Rate from On-Campus Testing **
0.21%
For Oct. 30.
Total Students In On-Campus Quarantine
3
For Oct. 30.
Total Students in On-Campus Isolation
2
For Oct. 30.
Total positive cases among students who have been on campus since Aug. 24, 2020:
19
Total positive cases among employees who have been on campus since Aug. 24, 2020:
2
Total students residing in Ulster County who have reported a positive test to the College:
4
Total positive cases from March 1- Aug. 23, 2020: 31
* While our Active and Recovered case tallies may include individuals who were tested at off-campus facilities, these figures will not be included in the Positivity Rate calculation, which only counts tests that take place on campus.
** On-campus testing is performed by Enzo Labs, SHS and SUNY Upstate Medical University for all students and employees coming to campus. This figure reflects tests performed, therefore some test results may still be pending.
Active cases are defined as a confirmed positive COVID-19 test among individuals who have been on campus and may have exposed others. Learn more about our testing and tracing protocols here. This dashboard will be updated by 10 a.m. daily, Monday-Friday.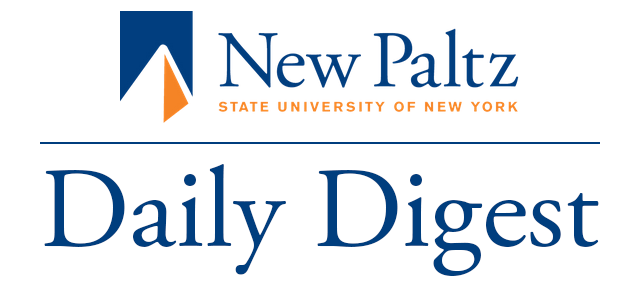 IN THIS ISSUE
Coronavirus update: The student previously being monitored as a presumed positive has tested positive
Have fun this weekend, but don't risk Thanksgiving for Halloween!
Faculty and staff are asked to respond to a voluntary questionnaire on disability status
Reminder and updates to Emergency Cancellations and Delays Policy
College to test mass notification system on Monday, Nov. 2
Video replay: Coping with Election Stress 2020
Literacy Center offering complimentary k-12 assessments
Halloween is almost here! Safe and spooky events on campus and in the Hudson Valley
Events and resources
The latest from media
From our community: MFA alumnus exhibits at sculpture park in Long Island City
COVID-19 testing information
Upcoming Human Resources, Diversity & Inclusion Trainings


Local Halloween happenings
Including grab-and-go trick or treating, an outdoor lit-up pumpkin patch and live music at an apple orchard, all in the Town of New Paltz
New Paltz Times, 10/28/20
Sculpture MFA alumnus Daniel Bejar '07g is exhibiting "Monument for Immigrants (In Advance of ICE Raid)" at Socrates Sculpture Park in Long Island City, New York. This concept rendering helps explain his vision for the piece: "A utilitarian escape hatch for undocumented people to enter and safely hide inside." Read more and see the installation at this link.