Black Studies: Building on a Proud Tradition
Latest News:
Sept. 9, 2016
A third new faculty member has joined the Department of Black Studies this fall.
---
Aug. 2, 2016
Mark Rumnit '93, a proud SUNY New Paltz alumnus, was hired as the new director of the Scholars Mentorship Program.
---
April 25, 2016
SUNY New Paltz is pleased to announce the appointment of two full-time, tenure-track faculty in the Department of Black Studies.
---
April 14, 2016
SUNY New Paltz will welcome Dr. Allia Abdullah-Matta, professor of English at CUNY LaGuardia Community College, to campus to deliver a talk titled "Black Blood & Breath: The Politics & Poetics of Sonia Sanchez."
---
March 7, 2016
A nationwide search for up to two new tenure-track faculty members in the Black Studies Department is on schedule to be completed by April 10, according to the search committee.
---
Feb. 10, 2016
The College held a Town Hall on Inclusion with President Donald P. Christian on February 10, 2016 to create a space for students, faculty and staff to share experiences of exclusion and inclusion. Campus leadership, students, faculty and staff have a shared responsibility to hear these experiences and use them to inform our collective commitment to strengthen inclusion and drive down instances of exclusion.
---
Feb. 4, 2016
SUNY New Paltz Alumni Advisory Council member Anthony Winn '92 (Business Administration) has been appointed as Special Assistant to Black Studies, a new consultation and mentoring position that will have Winn working with students, faculty and staff to help bolster the curriculum and programming of the Black Studies Department and engender an inclusive educational climate for all campus community members.
---
(Pre Event News Coverage)
Feb. 3, 2016
Many students and other members of the SUNY New Paltz community have asked for opportunities to be heard about their experiences pertaining to inclusion at the College.
In recognition of those requests, President Donald P. Christian invites students, faculty and staff to attend a town hall meeting on inclusion, to be held in the Student Union Multi-purpose Room on Wednesday, Feb. 10, from 2:30-4:00 p.m.
---
Jan. 19, 2016
Mark Rumnit is a proud SUNY New Paltz alumnus and has been a valued employee at the College since 2008, when he took a position as an academic advisor with the Educational Opportunity Program. He transitioned to Academic Advising in 2012, and over the years has served hundreds of students, assisting with academic challenges like course selection and fulfillment of major requirements and also helping them acclimate to college life through counseling at various stages of their undergraduate careers.
---
Jan. 19, 2016
SUNY New Paltz has appointed Cruz Bueno as visiting assistant professor of Black Studies. Bueno, who holds a Ph. D. in economics from the University of Massachusetts Amherst, will take an 18-month leave of absence from her position as assistant professor of economics at Siena College to assume a temporary position at New Paltz.
---
Dec. 18, 2015
SUNY New Paltz is one of the newest members of the National Council for Black Studies (NCBS), the leading organization of Black Studies professionals in the world, whose mission is to promote academic excellence and social responsibility in the discipline of Africana/Black Studies through the production and dissemination of knowledge, professional development and training and advocacy for social change and social justice.
---
Dec. 16, 2015
Two students -- Jean Padilla '16 (Sociology – Criminology) and Kimberly Roman '16 (Early Childhood Education – Black Studies B-6) – have been appointed to serve alongside faculty and staff on a committee leading a national search for a full-time/tenure-track faculty position in the Black Studies Department.
Dec. 15, 2015
SUNY New Paltz Dean of Admission Lisa Jones met with student representatives of the Black Studies Student Organization (BSSO) on Dec. 15. The students presented Jones with a list of proposals they believe will help recruit more students of color to New Paltz, strengthen the Black Studies Department, and enhance the experience, in and out of the classroom, of all New Paltz students.
---
Dec. 10, 2015
At a meeting of the SUNY New Paltz Academic and Professional Faculty held on Dec. 10, three students were offered time to speak to the faculty and staff in attendance regarding their concerns about the Black Studies Department. The students included Rookie Reynoso, Student Association president, and Nicole Striffolino, Student Association vice president for academic affairs and governance.
---
Dec. 10, 2015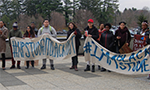 Students, faculty and campus leaders share the broad goals of the Black Studies Student Organization.
We commend the students for using their agency through efforts like today's protest to seek answers to their concerns.
---
Dec. 9, 2015
A nationwide search is underway for a full-time tenure-track faculty position in the department of Black Studies. The position is now posted on the New Paltz website. Students are being invited to serve on the search committee.
In addition to direct outreach to doctoral programs and circulating the ad through professional list serves by various faculty, the position has been or is being posted in the following venues.
HigherEdJobs.com
SUNY New Paltz HR website
NYS Dept of Labor
SUNY HR
West Point
The Doctoral Scholars Program Directory website
UUP website
Modern Language Association
National Council of Black Studies
Chronicle of Higher Ed
American Studies Association
Academic Diversity Search
HBCU (Historically Black College & University)connect.com
Social Media (LinkedIn and Twitter)
---
Dec. 9, 2015
Interim Provost Stella Deen and I received a letter last week from a group of alumni expressing their concern about the status and future of the Black Studies Department. We welcome and encourage the support and engagement of alumni in our shared goal to re-build the department.
---
Nov. 13, 2015
The message that Tanhena Pacheco-Dunn (Executive Director of Compliance and Campus Climate) and I sent to the community yesterday noted the reality of recent racially based incidents on U.S. college campuses. We reminded students, faculty, and staff about the impact of such incidents and less-overt actions on community members of color, and on the entire community.
---
Nov. 11, 2015
As many of you know, this week has been charged with racial incidents in U.S. higher education. Students at the University of Missouri protested in dissatisfaction with the college's response to several years of racially charged and biased incidents. Students and faculty at Yale University have reacted to the use of racially or culturally insensitive costumes during Halloween. The student newspaper at SUNY Plattsburgh apologized for its publication of a racially insensitive cartoon, spurring discussion among faculty about practical techniques to open dialogue with their students about topics like race and discrimination.
---
Sept. 10, 2015
Among the oldest Black Studies Departments in the country, the Black Studies Department at New Paltz has long played a vital role in the education of our students. Black Studies serves students through General Education courses and through the Black Studies interdisciplinary major. The Department has a strong and valued legacy of mentoring students of color and facilitating their community and civic engagement, and of helping majority students understand Black history and culture. Black Studies also nurtures strong ties to alumni and their continued engagement with SUNY New Paltz.
---
June 12, 2015
A team of faculty and staff is working to respond to an unprecedented wave of near-simultaneous departures of Black Studies faculty at SUNY New Paltz.