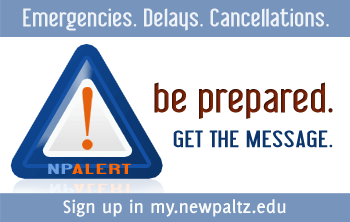 SUNY New Paltz now offers their students, faculty and staff the ability to sign-up to receive text messages on their cell phone in the event of a delay or cancellation due to inclement weather or on-campus emergency.
If you do not sign up for additional optional groups, you will ONLY receive emergency alert text messages.
Resident students may optionally sign-up to receive emergency alerts specific to their residence hall. If you are not a resident, or you do not want to receive emergency alerts affecting a residence hall, simply ignore those boxes in the sign-up form. You will only be subscribed to the campus-wide base emergency alert system.
Already registered? You can manage your account by logging into my.newpaltz.edu (See sign-up page for details, and please use the Mozilla Firefox or Safari browser, not Internet Explorer.)
Standard text messaging rates apply.
HAVING PROBLEMS?
If you did not receive the 4 digit validation code text message when you tried to sign up and are using Sprint or Verizion and are sure you have text messaging enabled on your phone, read these instructions.
If you did not complete the validation process, or did not receive a 4 digit validation code for other providers, please read these instructions.
Test Your Phone:
Google SMS (note: if you do not receive a text from Google during this test, you either do not have text messaging enabled on your phone, or your carrier only supports mobile-to-mobile texts and you will not be able to use this service.)