SUNY New Paltz celebrates its eighth year of participation in the National Make A Difference Day Program
MAKE A DIFFERENCE DAY 2012
Friday, Oct. 19 & Saturday, Oct. 20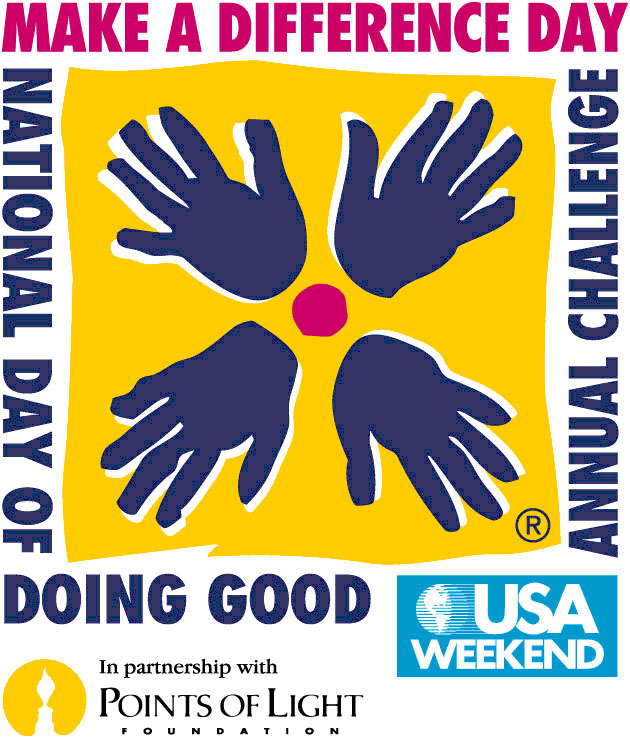 THIS YEAR'S ACTIVITIES
As part of the 2012 Make a Difference Day events, we will have two elements of the program: collections (leading up to the event with collections on Friday) and hands-on service (Saturday). We encourage students, faculty, and staff to participate in this great traditional event at New Paltz. Keep reading for more details on how to participate.
FORMS AND OTHER MARKETING PIECES
ONLINE VOLUNTEER SIGN-UP: Begins Tuesday, Sept. 11, 2012. Register online.
SERVICE HOST SITE: Is your local agency interested in hosting our volunteers on Saturday, Oct. 20 from 10:30 a.m.-2:30 p.m.? Then register online for consideration.
DONATION FORM: Print out a donation form and drop it off with your item.
COLLECTIONS
We will be collecting canned goods for local charities this year. We ask that donated items are NEW, UNUSED, UNOPENED, and in ORIGINAL PACKAGING. Items will be donated to local charities, agencies, and service centers that support those in need throughout Ulster County. ALL collections can be turned in on Friday, Oct. 19 from 11 a.m.-4 p.m. in Student Union MPR and outside Humanities 105.
Cash and coin donations are accepted, as well (checks can be made payable to SUNY New Paltz).
T-SHIRT GRAB SALE
Also, on Friday, Oct. 19, we will be hosting a T-Shirt Grab Sale in the Student Union MPR from 11 a.m.-4 p.m. All T-shirts are $1 and are new and unused. All monies collected from this grab sale will benefit a local service agency in Ulster County. We will also have a FREE tye-dye station available outside the student union for shirts purchased from the T-shirt Grab only.
HANDS ON SERVICE
As always, many people are interested in volunteering their time. Below are ways that you can volunteer. Please note that we will assign students to the service agency with the greatest need.
All individual participants will be entered in a drawing for a $50 Hawk Dollar credit. Groups (between 10-25 people) will be entered into a drawing for a special event for the group. The residence hall with the greatest percentage of student participation will also receive a $200 contribution for building supplies.
VOLUNTEER TIMES (ALL SERVICE TIMES WILL BE CONFIRMED VIA E-MAIL ON THURSDAY OCT. 18):
Saturday, Oct. 20, 2012
The schedule of events is as follows. Service sites are to be determined and volunteers will be assigned to agencies with the greatest need. Many sites are outdoors and some may involve pets/animals. If you have a condition or allergy in any of these setting, please make sure to note that on your volunteer registration form:
- Check-in and Registration, Student Union 2nd Floor Pre-function Space, 9 a.m.
- Opening and Kick-off Remarks, Student Union MPR, 9:30 a.m.
- Departure for Service Site (see a list of sites below),
- Return back to campus from Service Site, no later than 3 p.m.