Fraternity and Sorority Life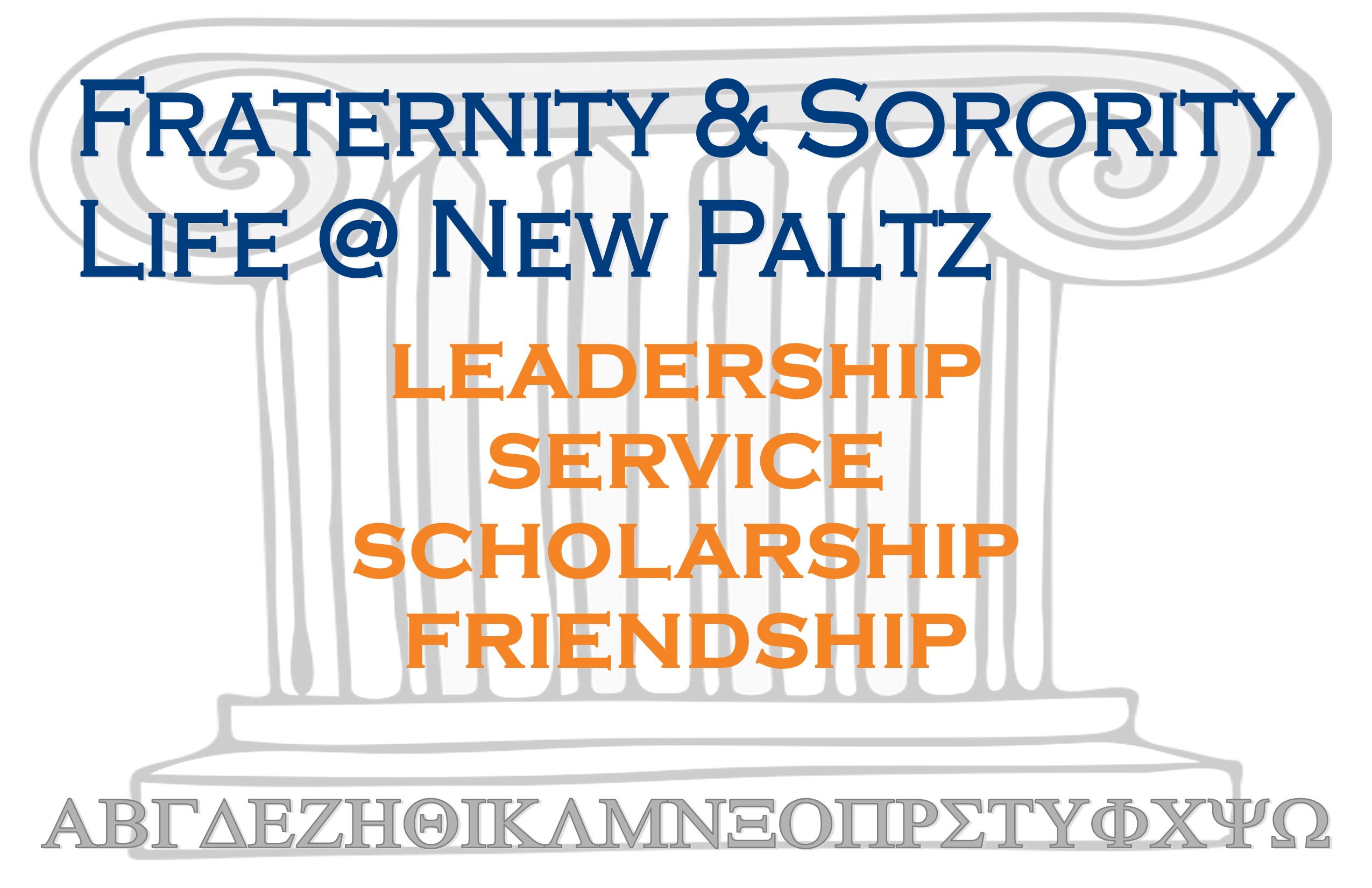 New Paltz has a unique fraternity and sorority life program on campus serving the needs of our diverse student population. There is a wide range of organizations to choose from within our multicultural fraternity and sorority community. Together we strive to create unity and excitement on our college campus. Please take a look at all that fraternity and sorority life has to offer!
The Fraternities and Sororities at New Paltz
Fraternity & Sorority Academic Report (Fall 2016) *
Fraternity & Sorority Community Service Report (2015-2016) *
What's the Difference Between Recognized and Unrecognized Organizations?
Gamma Sigma Alpha National Greek Honor Society
Fraternity & Sorority Policy Manual - Updated August 2016 *
SUNY New Paltz Hazing Policy and Hazing Prevention Information 
Recognition & Expansion Policy and Provisional Interest Group Roster *
Five Star Chapter Accreditation Program
Chapter President Update Form
Use the above form to update our office about your current Chapter President.
Program Funding Request Form
Due Friday, February 23, 2018
Spring 2018 Chapter Roster
This form is unique to each chapter; please pick up the copy in your chapter mailbox (after January 10). It is due Friday, February 2, 2018.
Spring 2018 Advisor Agreement Form *
This form is due Friday, February 2, 2018. A copy is also available in your chapter mailbox (after January 10). You may also print a form from the Documents Section of GreekLife on Blackboard.
Spring 2018 Chapter Leadership Form *
This form is due Friday, Friday, September 8, 2017. A copy is also available in your chapter mailbox (after January 10). You may also print a form from the Documents Section of GreekLife on Blackboard.
Spring 2018 Sub-governing Board Roster*
This form is due Friday, Friday, February 2, 2018. A copy is also available on Blackboard.
Program Completion Report
This online form is due within two weeks of your program.
Community Service Report
This online form is due within two weeks of your community service or philanthropy event.
Spring 2018 New Member Education Packet *
PLEASE NOTE: All forms are available on Blackboard (in GreekLife Documents) in Word documents for our current chapter leadership to utilize. Future New Member Education Dates through Spring 2018