Mentor Awards
The Faculty mentor award recognizes extraordinary efforts mentoring undergraduates in the production of new works or knowledge. Each year the awardee is announced at the Student Research Symposium.
To nominate, please complete the Call for Faculty Mentor Award form.
Spencer Mass was chosen for his extensive and productive mentoring efforts. With his guidance, students have regularly presented at regional, national, and international conferences. Mass fosters an open learning environment where students can ask questions, learn techniques and become fully involved in research. Rather than simply looking at the experimental results and stating what steps need to be taken next, he asks the student to suggest. Hannah Miller '15 (Biology) explained that his "research students are encouraged to take initiative and work independently, but are always able to go to him for brainstorming, advice, or a troubleshooting session."
On the occasion of the 20th annual Student Research Symposium (2014), the RSCA program chose to recognize Gerald Benjamin (CRREO) with a Lifetime Achievement in Mentoring Undergraduate Award. Benjamin has a long history of supporting students in research projects. As Dean of the School of Liberal Arts and Sciences, Benjamin worked to increase the support for and recognition of undergraduate research accomplishments. When he established the Center for Regional Research and Educational Outreach (CRREO) in 2007, he ensured that the center would focus on engaging students in public policy research. Students from a variety of majors participate in CRREO research, and Benjamin continues to directly mentor research students, who have written articles and presented at conferences. CRREO was featured in the Winter 2012 Council on Undergraduate Research Quarterly issue: Connecting Undergraduate Research to Federal and State Legislators.
Diego Dominici (Mathematics) was selected for his work mentoring students and supporting other faculty mentors. Andre Candido '14 (Electrical Engineering) noted the significance of his "opportunity to learn from a scholar as hard working and brilliant as (Dominici)." Notably, his students typically study a self-generated question instead of one chosen by Dominici. In addition to his success in preparing students for conference presentations, he has encouraged and supported other faculty mentors in the Mathematics Department.
Michael Vargas (History) Vargas was chosen for his extensive mentoring. Under his guidance, students have prepared papers on a variety of medieval history topics. His undergraduate students have presented research and won awards, even at graduate student conferences. In Vargas' nomination letter, Miriam Ward (History, Digital Media Production, '15) noted that "On a daily basis, Professor Vargas challenges me to reach my best, inspires me and supports me in my studies."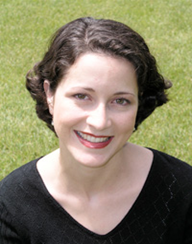 Andrea Varga (Theatre Arts) Varga was chosen for her extensive mentoring and efforts to provide students with opportunities to work with off-campus mentors. She has provided students with one-on-one mentoring that has contributed to student success. Varga's students have presented at the United States Institute of Theater Technology International Conference. Each has certainly gained from her ability to provide positive, constructive criticism. In Varga's nomination letter, Kyle Fassett '12 (Theatre Art/Communications) noted, "She has gone out of her way to support me; giving me direction, making me think in new ways, and providing positive reinforcement for my hard work."
Megan Ferguson (Chemistry) Ferguson was chosen for her extensive and varied work with students. This work has resulted in local and national and conference presentations. Ferguson generously shares her time and expertise mentoring the students working in her lab as well as students working with faculty in other departments. Her cheerful, patient, and professional guidance enables students to become technically competent with complex laboratory equipment. In Ferguson's nomination letter, Laurel Okorofsky '11 (Biology), notes that "she has taught us to use the equipment safely, to think about our research plans utilizing the scientific method, and always to be objective and accurate."
Benjamin Junge (Anthropology) Junge was chosen for his considerable and diverse work with students, which has resulted in local, national, and international conference presentations. In addition to mentoring, Junge was noted for his extraordinary efforts in helping a student obtain conference travel funds. Junge's nomination letter, written by both Heather Slivko-Bathurst '10 (Anthopology, Black Studies) and Kathleen Fox '11 (Anthropology) described his mentorship style as "coupling high expectations with a deep loyalty and dedication to his students."