BFA/MFA Student Thesis Exhibitions
December 5–17, 2003

At the end of each semester, students graduating with Bacherlor of Fine Arts or Master of Fine Arts degrees exhibit art work created as part of their thesis projects in the museum's west wing. Exhibitions are designed and installed by the students, under the supervision of the Curator of Exhibitions and the museum Preparator. Works from the following options are included: Ceramics, Graphic Design, Metals, Painting, Photography, Printmaking, Sculpture, as well as multi-media installlations.
---
Encaustic Works 2005
September 17 – December 11, 2005
Morgan Anderson Gallery and Howard Greenberg Family Gallery
Encaustic Works 2005 is a selective survey of contemporary works using encaustics, a wax-based medium that dates back to Classical Greece and Rome. Interest in this unusual medium was re-kindled in the mid-20th century, as modern artists such as Jasper Johns rediscovered the unique practical and aesthetic advantages of working with pigments and other materials embedded in melted wax. This exhibition showcases a range of innovative contemporary approaches to the medium by 22 artists who live and work in the Hudson Valley, producing painting, sculpture, and photo-based work incorporating encaustics. Inspired by the biennial series initiated ten years ago by R&F Handmade Paints of Kingston, New York, this exhibition celebrates the company's ongoing leadership in revitalizing and advancing the medium, through their exhibitions and workshop programs.
Artists in the exhibition: Nancy Azara, Pamela Blum, Danielle B. Correia, Dan Feldman, Lorrie Fredette, Gail Gregg, Valerie Hammond, Jan Harrison, James Haskin, Judy Hoyt, Martin Kline, Megan Irving, Heather Hutchinson, Allyson Levy, Wayne Montecalvo, Laura Moriarty, Denise Orzo, Tracina Priest, Donna Sharrett, Fawn Potash, Cynthia Winika, and Rebecca Zilinski.
---
The Cult of Happiness
September 17 – November 6, 2005
Corridor Gallery
This exhibition of more than 30 Chinese woodblock prints, selected from the SDMA's permanent collection by Dr. Elizabeth Brotherton, Associate Professor of Art History at SUNY New Paltz, is being mounted to accompany the annual meeting of the New York Conference of Asian Studies (NYCAS), held on the New Paltz campus September 30 and October 1, 2005.
The popular prints in this exhibition were originally made in celebration of the lunar New Year, when they would be pasted up on the doors and walls of homes throughout China. The bold designs and bright colors of the prints would have been especially striking when seen within the often drab architectural contexts in which they were used. Produced by anonymous craftsmen or peasants during the agricultural off-season, they display great decorative sophistication while at the same time managing to retain a direct simplicity in their style. All the works in the exhibition date from the 19th and early 20th centuries.
A panel in the NYCAS conference will devote itself to Chinese popular prints, and will take place in Smiley Art Building.
---
Juxtapositions: Selections from the Metals Collection
Curated by Jamie Bennett and Myra Mimlitsch-Gray
September 17 – December 11, 2005
Sara Bedrick Gallery
This exhibition, curated by SUNY New Paltz professors James Bennett and Myra Mimlitsch-Gray, features objects from the SDMA's permanent collection of fine art metals. The show will highlight recent acquisitions, establishing comparisons between a wide range of objects – old and new, precious and common, unique and production work – in order to better understand the fluid, dynamic relationships between these categories in the field of metalsmithing. The show will also include a number of renderings and preparatory sketches by a number of artists, and will pay special tribute to the recently deceased Hermann Jünger, the renowned and influential German jeweler and former professor at the Akademie der bildende Künste in Munich, who also lectured at SUNY New Paltz.
In conjunction with the exhibition, a roundtable discussion entitled "On Collecting" will be held September 21, including members of the Art Jewelry Forum, a group of collectors, curators, and others from across the country who have included a two-day visit to New Paltz as part of their New York regional tour. The discussion will explore the nature of collecting from the personal and institutional perspectives, as well as discuss the mission and subjectivity related to objects and their display.
An exhibition of student and recent alumni work, Process/Product, will run from September 6 through 28 in the Sojourner Truth Library.
---
Recycled Revisited: Artistic Responses to the Earth Charter
A selection of work by artists from the Art Society of Kingston

Curated by guest artist John Dahlsen and Dr. Alice Wexler
July 1 – September 18, 2005
Alice and Horace Chandler Gallery & North Gallery
The exhibition is based on the Earth Charter, a declaration of the fundamental principles for building a just society with a special emphasis of the world's environmental challenges. The document's vision recognizes that environmental protection, human rights, equitable human development, and peace are interdependent and indivisible.
The twelve artists in this exhibition weave together environmental, social, and political concerns, all of which must be attended to for a sustainable future. Employing a variety of media that range from plastic bags, shoes, rocks, and bones, to more traditional materials, they challenge the concept of the artist as removed from society in favor of the artist as responsive and responsible to society. Through issue-oriented, challenging works, the artists inspire an appreciation for the fragility of the social and natural environments and a sense of global interdependence.
Artists in the show include: Takashi Abe, Barbara Bachner, Rimer Cardillo, Dennis Connors, John Dahlsen, Anthony Krauss, Iain Machell, Meadow, Franc Palaia, Shelley Parriott, Elisa Pritzker, and Cynthia Winika.
---
Dorothy Norman, Telephone and Stieglitz Equivalent, Copyright: The Estate of Dorothy Norman, Gift of Howard Greenberg, 2003.053.40
Curated by Beth Wilson
June 8 – August 7, 2005
East Wing Galleries
Most of us spend more time looking through photographs than looking at them. An engaging new exhibition, The Material Image: Surface and Substance in Photography, seeks to quiet the instrumental and/or narrative impulse that underscores the making and consumption of most photographs. Through a comprehensive survey of photographic processes primarily drawn from the SDMA permanent collection 'from cyanotype and daguerreotype to platinum and gelatin silver' some hand-tinted, others solarized, still others classic 'straight' images – visitors to the exhibition will be challenged to reflect on the physical nature of the medium and the specific visual and formal effects that have historically been enabled by these photographic processes, with an eye toward the way emerging digital technologies are changing the way we comprehend traditional analogue, emulsion-based works.
Isamu Noguchi and Grace Greenwood (at Maverick Festival), "He painted eyes on me and I painted lips on him" Gaede/Striebel Archive, Extended loan from the Center for Photography at Woodstock
Dr. Jaimee Uhlenbrock, Curator
July 1 – September 18, 2005
Sara Bedrick Gallery
Vintage photographs, prints, and memorabilia commemorating the original "Woodstock Festival" at the Maverick Art Colony from the Jean Gaede/ Fritzi Striebel archive at the SDMA.
Click here to see the exhibition.
Don Nice, Indian Brook Falls, 1993, Samuel Dorsky Museum of Art, Extended loan
February 5 – April 22, 2005
East Wing Galleries
An exhibition of 50 paintings by contemporary American realist painter Don Nice emphasizing his later work, dating from the mid-1980's, which concerns itself more with a sense of place and the artist's relationship to the land. In 1985 and again in 1999, Nice traveled the length of the Hudson River by boat, making spontaneous watercolors documenting the trips. A significant selection of works from these trips will be featured in one of the museum's galleries.
Of special interest are his paintings which bring to bear most of Nice's artistic concerns, now expressed with new materials, specifically the use of organic dyes on shaped anodized aluminum. In these works, Nice embraces aspects of popular culture and certain critical issues of our time. He paints classic American products like sneakers, candy wrappers, and soda bottles and juxtaposes them with natural elements, such as bears, fish, birds and fruits, in site-specific landscapes from the Hudson River Valley. In doing so, he has created a distinctive vision of civilization's detritus in league with cultural concerns for the environment. In all aspects of this endeavor, Nice gives definition to the nature of art.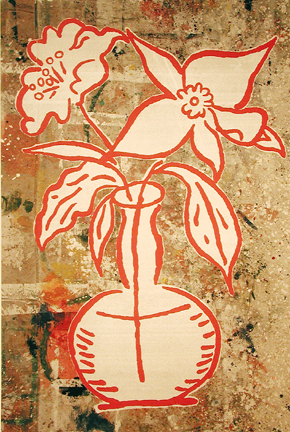 Donald Baechler, Flower #1, 1993, courtesy of James Cottrell and Joseph Lovett
February 5 – April 10, 2005
Alice and Horace Chandler Gallery & North Gallery
The Samuel Dorsky Museum of Art will highlight the contemporary art collection of New York residents Jim Cottrell and Joe Lovett. The 47 works selected for this exhibition will offer an in-depth look at the work of Basquiat, Haring, Morley, Hockney and others, often through several examples of their work. The focus of the collection includes artists working in the United States, Spain, and France.
Cottrell and Lovett have been collecting art since 1976, with much of their collection built around a personal relationship with an artist. A cohesive sensibility is evident as well as a love of painting and an appreciation for whimsy and humor.
Jim Cottrell and Joe Lovett are listed among Art & Antiques Top 100 Collectors in 2001.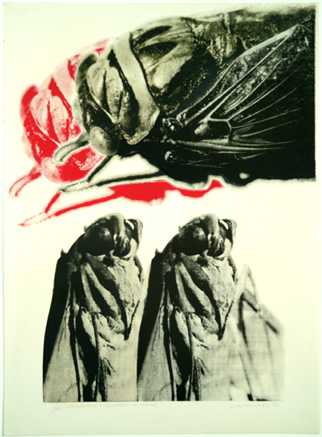 Chicharras y Mariposa Nocturnas (Cicadas and Moths), from the series "Chicharras y Mariposas Nocturnas (Cicadas and Moths), 1973
Curated by Karl Willers
October 16 – December 12, 2004
East Wing Galleries
The Samuel Dorsky Museum of Art (SDMA) at the State University of New York at New Paltz presents the first comprehensive survey of Rimer Cardillo's artistic career.
Focusing on Cardillo's contributions to printmaking and the graphic arts, this retrospective explores Cardillo's commitment to preservation of indigenous cultures, protection of endangered species, and conservation of vulnerable environments. Working amidst the dictatorial oppression in Uruguay of the 1970's, the artist strove to maintain a tradition of free expression in opposition to totalitarian censorship. Cardillo's later art explores the links between the historical norms that decimate indigenous peoples and the cultural habits that threaten plant and animal life.
The exhibition presents several print series that measure out the career and contributions of this major graphic artist. The exhibition also explores the ways in which Cardillo's printing expertise expands to include objects, installations and environments. Exploring a career that now extends over three decades, Rimer Cardillo: Impressions (and other images of memory) organizes the artist's work into four periods: Early Explorations: Uruguay and Germany during the late 1960s and early 1970s; A Voice of Protest: Uruguay in the 1970s; Strategies of Metaphor: The United States in the 1980s and 1990s; and Beyond Printmaking: Installations and Castings in the 1990s and Today.
The exhibition is funded in part by the Friends of the Samuel Dorsky Museum of Art and the Dorsky Foundation.
September 8 – November 14, 2004
Alice and Horace Chandler Gallery & North Gallery
In the early 1950s Fernand Mourlot began to work collaboratively with modern French masters in Paris to design and produce original color lithographic posters to promote their exhibitions primarily at Galerie Maeght in Paris. Employing classic color lithographic techniques for posters established in the late 19th century during the Belle Epoch (1890-1900) each design functioned not only as a broadside, but also as an original work of art. Featured are posters by some of the most well-known French modern artists including: Pablo Picasso, Georges Braque, Joan Miro, Robert Delaunay, and others. A section of 19th century posters and lithographs by masters of the genre, Frederic Auguste Cazals, Jules Cheret, Henri de Tolouse Lautrec, Eugene Grasset, T. A. Steinlen, and Alphonse Mucha, establish a historical context for understanding the evolution of the poster and the seminal role that Fernand Mourlot played in establishing and transforming the fine art poster in the 20th century.
Kindred Spirits: George Bellows and Friends In Woodstock
From the Collection of Arthur A. Anderson
June 29 – September 12, 2004
Morgan Anderson Gallery
The act of collecting can be said to be instinctive, although motivated by many factors from an altruistic support of the arts to the basic need to amass and acquire objects. Although public museums develop collections for reasons different than individual collectors, the two are inextricably tied together—and have been throughout the history of art. This exhibition draws upon important works of art from the permanent collection of the Samuel Dorsky Museum of Art and from the private collection of Arthur A. Anderson. The Arthur A. Anderson collection is notable for its comprehensive inclusion of paintings, prints, and drawings by artists associated with the historic Woodstock art colony. Arthur A. Anderson, a long-time friend of the Samuel Dorsky Museum of Art, is a member of the Executive Board of the Friends of the SDMA and has recently created The Morgan Anderson Gallery at the museum to support the institution's regional mission.
Kindred Spirits Gallery Guide* (pdf)
---
Out of The Vault: Recent Acquisitions, Promised Gifts, and Extended Loans
June 26 – September 12, 2004
---
Out of the Studio: Hudson Valley Artists 2004
Curated by Karl Willers
June 26 – August 8, 2004
Alice and Horace Chandler Gallery & North Gallery
Each summer, the Samuel Dorsky Museum of Art at SUNY New Paltz mounts an exhibition of work by emerging, mid-career, or under-represented artists living and working in the mid Hudson Valley and Catskill Mountains region. Following a format established in 2003, several prominent artists in the New Paltz area have recommended for exhibition an artist living and working in the region. There is a wealth and diversity of artistic activity in the mid Hudson Valley and Catskill Mountains area that makes this project possible. For the summer of 2004, the painter Joel Griffith of Tivoli has been selected by Carolee Schneemann of New Paltz; the painter and multi-media artist Roman Hrab of Kingston has been selected by Ursula Von Rydingsvard of Accord; the painter Henrietta Mantooth of Lake Hill has been selected by Mary Frank also of Lake Hill; the photographer and installation artist Peter Mauney of Tivoli has been selected by Stephen Shore also of Tivoli; the sculptor and ceramist Joyce Robins of High Falls has been selected by Catherine Murphy of Poughkeepsie; the sculptor Sal Romano of Jeffersonville has been selected by Mel Edwards of Accord; and the painter Christopher Seubert of High Falls has been selected by Pat Flynn also of High Falls.
---
Written in Memory: Portraits of the Holocaust: Photographs by Jeffrey Wolin
Curated by Wayne Lempka
March 24 – May 30, 2004
Sara Bedrick Gallery
Jeffrey Wolin's black and white photographic portraits, which include handwritten text taken from interviews with Holocaust survivors and applied to the surface of each image, provide a powerful tribute to those whose lives were forever altered by the horrific events that took place in Europe during World War II. His revealing photographs stand as a testimony to the pain, the losses, and the vivid memories of each survivor.
Lecture by Jeffrey Wolin: on April 13, 2004 Mr. Wolin will give an informal gallery talk and then will be the keynote speaker at a symposium dealing with art that uses the Holocaust as its theme.
---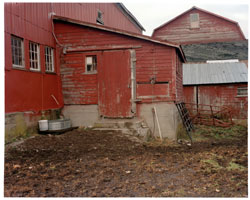 James Welling, Lampman Farm from Agricultural Works, 2001, collection of the artist
Music by Will Welling
February 7 – April 8, 2004
Chandler Gallery
Agricultural Works is an exhibition of new work by contemporary photographer James Welling, that merges nature, culture and industry of the Hudson River Valley through color photography and music.
Agricultural Works comprises photographs and musical soundtrack that document a rich array of subjects identified with the region: farmland, crops, livestock, vineyards, farm buildings, machinery and tools in the counties north of New York City. The project was developed collaboratively with Will Welling, the photographer's brother, a musician living in the Albany area. For the past three years James Welling has been photographing farms in northern New York counties and Will Welling has been composing original music on the theme of agriculture. Agriculture Works will include James Welling's photographs, and a live performance of Will Welling's music by The Please and Thank You String Band at the opening reception on February 8, 2004.
About the Artist: James Welling is often identified with the postmodern photography movement that came to critical attention in the early 1980s. This group of artists, which also includes Louise Lawler, Cindy Sherman and Barbara Kruger challenged the idea of photographic transparency and truth. For the past 16 years, Welling has worked on a series of documentary photography projects in the United States and in Europe: Railroad Photographs (1987-94); The Architecture of H.H. Richardson, (1988-94); Calais Lace Factories, (1993); Wolfsburg, (1994); Light Sources, (1992-98) and Los Angeles, (2003).
James Welling is vice chair of the Department of Art at UCLA. His recent work has been featured in exhibitions at the Palais des Beaux-Arts in Brussels; the Wexner Center for the Arts in Columbus; the Baltimore Museum of Art, and the Museum of Contemporary Art in Los Angeles. His work is represented in the permanent collections of the Metropolitan Museum of Art and the Museum of Modern Art in New York; and the Museum of Contemporary Art in Los Angeles.
Sponsors: Generous funding for this exhibition is provided by The Dorsky Foundation, Inc.
Watershed is made possible with major funding from Lee Balter, The Reed Foundation, Inc. and The Scenic Hudson Land Trust, Inc. Generous support is also provided by the City of Beacon; Dia Art Foundation; The Dutchess County Industrial Development Agency; Educational Foundation of America; Glynwood Center; Hudson River Valley National Heritage Area; Lannan Foundation; LEF Foundation; The M&T Charitable Foundation; National Endowment for the Arts; New York State Department of State; Philip Morris Companies; The Horace W. Goldsmith Foundation; The Surdna Foundation; Beacon Terminal Associates; and private individuals.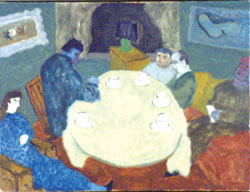 Milton Avery, The Group (After Dinner Coffee), 1939, Permanent Collection of the Neuberger Museum of Art, Purchase College, State University of New York; Gift of Roy R. Neuberger
Curated by Karl Willers
January 28 – May 30, 2004
East Wing Galleries
Remaining faithful to his own artistic vision, and defying the popular art movements of his day, Milton Avery forged his own aesthetic path through modernity. This exceptional exhibition highlights 29 works of art, rarely exhibited in the region, documenting Avery's artistic development from 1929 to 1961.
Roy R. Neuberger was one of this country's most recognized patrons of American Art. Encountering the work of Milton Avery around 1940, he quickly acquired a large personal collection of the artist's works and has gifted many to museums across the United States.
Card Players (1944), the major canvas by Milton Avery in the Permanent Collection of the Samuel Dorsky Museum of Art, was given by Mr. And Mrs. Roy Neuberger in 1954 and will also be on view during the exhibition.
This exhibition is dedicated to the memory of Adeline Dorsky. Support for this exhibition is provided by The Dorsky Foundation, Inc.
About Avery and his work: In recent years, appreciation of Avery's work has experienced a renaissance and his paintings have taken their rightfully prominent place in the history of modern American Art. An unassuming man who shied away from publicity, Avery was not allied with the avant-garde, regionalist, or social realist movement of the 1930s, and even less a part of the gesture abstractionists of the 1940s and 1950s. Considered too radical for the critics, Avery remained out of favor for years, and lived modestly for most of his life.
Milton Avery: Paintings from the Collection of the Neuberger Museum of Art embodies Avery's classic motifs-intimate groupings of friends, portraits, still lifes, seascapes, and landscapes-with his characteristic flattened, color harmonies and respect for his chosen subjects. While Avery's interest in representing everyday life in his work did not change with time, he did increasingly experiment in saturated color and simplified forms beginning in the 1930s.
In the 1940s, the prolific Avery replaced his brushy paint application and graphic detailing with more daring areas of flattened color. His intense concentration on color and ever more simplified form became evident, as shape and color now shared equal importance in his works.
In the late 1940's and into the 1950's Avery began concentrating on larger fields of flat color and capturing relationships between more generalized elements in his compositions. Even as Abstract Expressionism dominated the post-war art world, Avery continued his explorations in color harmonies, shapes and everyday experiences. Avery has often been called the American Matisse for his use of vibrant colors and fluid outlines simple in his later work.
Around 1957 Avery's work shifted again, this time working on a larger scale resulting in a greater impact of composition and color. This style gained him extraordinary critical acclaim and a retrospective at the Whitney Museum of American Art in New York in 1960.
In 1962, Avery suffered a second heart attack, and his health continued to deteriorate steadily until his death in 1965. Throughout his life, Avery demonstrated perseverance as a solitary artist pushing representation to the border of abstraction with a lyrical elegance. During his career, he has been credited with influencing other notable painters including Adolph Gottlieb, Barnett Newman, and Mark Rothko. Rothko, at Avery's memorial, gave the following tribute:
There have been several others in our generation who have celebrated the world around them, but none with that inevitability where the poetry penetrated every pore of the canvas to the very last touch of the brush. For Avery was a great poet-inventor who had invented sonorities never seen or heard before. From these we have learned much and will learn more for a long time to come.
This exhibition is part of the SDMA's continuing Hudson Valley Masters Series, which highlights work created by artists who have lived and worked in the Hudson Valley and Catskill regions. Milton Avery summered in Woodstock, New York and was a member of the Woodstock Art Association.
About the Neuberger Museum collection: Roy R. Neuberger, one of this country's most respected collectors and patrons of American art was attracted to Avery's nuances of color as well as the simplified forms of his work. Convinced of Avery's significance, Neuberger acquired over one hundred of the artist's paintings within a short period of time, making his the largest private collection of Avery's work. In 1974, the gift of a considerable portion of Roy R. Neuberger's collection created the Neuberger Museum of Art of the State University of New York at Purchase.
A fully illustrated catalogue, featuring an essay by Barbara Haskell, accompanies the exhibition.
Larry Rivers, Dutch Masters Cigars, 1982, Collection of the Samuel Dorsky Museum of Art, State University of New York at New Paltz, Gift of Dorsky Gallery Curatorial Programs
January 28 – March 14, 2004
Sara Bedrick Gallery
SUNY New Paltz faculty and professional staff are participating in an intriguing interdisciplinary exhibition at the Samuel Dorsky Museum of Art. Reading Objects 2004, opening to the public on January 28, 2004, is the second in an ongoing series of exhibitions at the museum in which the academic and professional staff provide the interpretive wall text for selected objects from the museum's permanent collection.
This engaging exhibition reveals a diverse array of new acquisitions from the museum's permanent collection and potential gifts. From a Persian manuscript page from the 16th century to Dutch Masters Cigars, a 1982 lithograph by Larry Rivers – works of art from the Middle East, the South Seas, Asia, Africa, North America, South America and Europe are represented in the exhibition. Participants in the project were asked to review a selection of twenty-one objects from the SDMA permanent collection, select one or more to study, and finally to create interpretive label copy developed from the unique perspective of their academic disciplines or professional interests.
The interpretive panels offer a variety of voices and diverse perspectives. Poetic language, fictional stories, experimental writing, critical commentary, historical research from the perspectives of the sciences, humanities and other areas are some of the methods, literary styles and interpretive forms the writers take.
Included in the exhibition are:
Robin Arnold, Kristin Sanchez Carter, Betty Ann Enos (nee Damms), Wilma Feliciano, Lourdes Giordani, Anne Gorrick, Mary Hafeli, Jan Hammond, Kristine Harris, EunKyung Jeong, Richard Kelder, Susan Lewis, Jo Margaret Mano, Lawrence McGlinn, Tom Meyer, Jeff Miller, Susan Miiller, Thomas G. Olsen, Jennifer Piren, Rachel Rigolino, John Sharp, Rafael Saavedra-Hern'ndez, Tom Sarrantonio, Jan Schmidt, Anat Shiftan, Robin Smith and Robert Waugh.
Reading Objects 2004 is accompanied by a fully illustrated catalog available at the museum.
The exhibition is modeled after a program originated in 1995 at the Williams College Museum of Art, which was designed to explore the numerous perspectives from which a work of art can be experienced and understood through interdisciplinary interpretation.