BFA/MFA Thesis Exhibitions
November 30 – December 11, 2007
Alice and Horace Chandler Gallery & North Gallery
---
Guadalupana
November 2 – December 9, 2007
Sara Bedrick Gallery
Miguel Gandert, an internationally-acclaimed photographer and professor at the University of New Mexico has participated in and documented the rituals of the indigenous, mestizo, Nuevo Mexicano culture for more than twenty years.
Conversation between Miguel Gandert and Enrique Lamadrid, Professor of Chicano Studies, University of New Mexico November 3, 2007
This event is part of The Big Read, an initiative of the National Endowment for the Arts in partnership with the Institute of Museum and Library Services and Arts Midwest.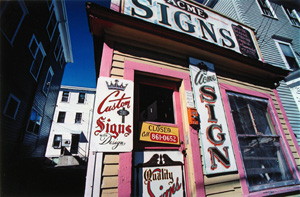 Harry Callahan, Providence, 1977, gift of Mary and Charles Traub
October 6 – November 18, 2007
Alice and Horace Chandler Gallery
Selected works from the SDMA's collection with special emphasis on works not recently exhibited at the museum.
Radio Tower, 1997
October 6 – November 18, 2007
North Gallery
A portfolio of black-and-white photographs, inspired by Film Noir and pulp fiction, taken at night in Los Angeles and New York City.
Gallery Talk with Helen K. Garber: October 13, 2007
A Designed Life: The Arts and Crafts of Byrdcliffe
June 23 – December 9, 2007
East Wing Galleries
A selection of artworks and crafts created by artists associated with the historic Byrdcliffe Arts and Crafts Colony founded in 1903 in Woodstock, NY.
---
Interpreting Utopia
June 23 – December 9, 2007
Howard Greenberg Family Gallery
Recent work by Center for Photography at Woodstock Artist-in-Residence Fellows inspired by the environment and architecture of the Byrdcliffe colony. Artists: Kira Lynn Harris, Isabelle Lumpkin, Stephen Marc, Xaviera Simmons, Karina Aguilera Skvirsy, and Kwabena Slaughter.
---
European Prints from the Ken Ratner Collection
June 23 – December 9, 2007
Corridor Gallery
An exhibition of 30 prints on extended loan to the museum, including significant works by Cezanne, Daumier, Magritte, Matisse, Munch, Picasso, Rembrandt, Renoir, Sisley, and others
---
Hudson Valley Artists 2007: The Uncanny Valley
June 23 – September 9, 2007
Alice and Horace Chandler Gallery & North Gallery
An exhibition of work by artists from the region exploring - from diverse viewpoints and with a wide range of media-psychological, perceptual, historical, and literary aspects of the uncanny.
---
George Quasha: "art is" and Axial works in stone, graphite, and video
June 23 – October 7, 2007
Sara Bedrick Gallery
Three interrelated bodies of work and a video project comprising short interviews with over 500 artists commenting on "what art is."
---
BFA/MFA Thesis Exhibitions
April 27 — May 22, 2007
Alice and Horace Chandler & North Galleries
BFA I April 27 – May 1
Nora Balantzian | Crystal Bianucci | Francheska Boria | Christi Buck | Sean Callaghan | Idriss Crowder | Elizabeth Duggan | Tracy Dwyer | Lindsay Guiffrida | Patrick Keefer | Satori Murakami | Kelly McGrath | Michael Smith | Yvonne Tse | Patrick Yager
BFA II May 4–8
Mike Altadonna | Shaunna Boreham | Alexandra Dzubak | Benjamin Evans | Patricia van Etten | Jillian Gadawski | Michalis Galanis | Jonathan Jackson | Amanda Kohn | Crystal Plaza | Jennifer Schoonmaker | Megan Simonelli | Alex Wixon | Robert van Wyen
MFA I May 11–15
Liz Daly | Alexandra Davis | Jung Ah Hahn | Yoon Jeong Han | Jennifer Hermann | Jacquelyn Lipp | Jesse Mills
MFA II May 18–22
Maria Alfarao | Chang Hyun Bang | Robert Capozzi | Jessica Kahle | Leah Ellen Kucera | Christopher Manning | Elina Toperman
---
Opalescent Morning, ca. 1909, James A. Michener Art Museum, Gift of Marguerite and Gerry Lenfest
February 24 – May 20, 2007
East Wing Galleries
Charles Rosen was one of the most accomplished Pennsylvania Impressionists, and later, a prominent Modernist associated with the Woodstock Art Colony. In the early 1900s Rosen became a successful landscape painter but, dissatisfied with this style, eventually abandoned the purely representational mode in favor of a rhythmic and semi-abstract style that incorporated elements of the built landscape, decorative patterning, and cubist fractured perspectives. Rosen maintained that this mature style was based on a passionate exploration of form as a living, organic phenomenon, what he referred to as the form that radiates life.
This exhibition features 50 works, including major paintings and works on paper spanning Rosen's stylistic development.
The works in the exhibition are drawn from the collections of the James A. Michener Art Museum (JAMAM), as well as from other public institutions and private collections in Connecticut, Ohio, New York, Pennsylvania, Missouri, and Washington, D. C.
Form Radiating Life: The Paintings of Charles Rosen was organized by the James A. Michener Art Museum, Doylestown, Pennsylvania.
Judy Pfaff, White Light, 2005
Judy Pfaff: New Prints and Drawings
February 10 – April 7, 2007
Alice and Horace Chandler Gallery
Judy Pfaff Selects from the SDMA Collection
February 10 – April 7, 2007
North Gallery
Sculptor, printmaker, installation artist, and set designer Judy Pfaff will be the subject of the next Hudson Valley Masters series exhibition at the SDMA. Pfaff exuberantly investigates the visual and metaphorical intensities of the natural and built worlds. Her deep engagement with materials and processes has resulted in the creation of a respected but always surprising body of subtle, powerful work.
Pfaff's large prints incorporate multiple plates, collaged papers and an array of other materials and techniques; these works are presented in elaborate frames designed and fabricated to Pfaff's specifications. The exhibition focuses on prints created at Tandem Press in Madison, Wisconsin, and on prints and drawings the artist has completed since receiving a MacArthur Fellowship in 2004.
In addition to the prints and drawings, the SDMA will present a new project by the artist: a group of works from the museum's permanent collection selected and installed under the direction of the artist.
Judy Pfaff's work has recently been featured in one-person shows in New York, Philadelphia, Santa Fe, and Tokyo, and her work is included in the permanent collections of institutions including The Museum of Modern Art, the Whitney Museum of American Art, and the Albright-Knox Gallery. Pfaff, a current MacArthur Fellow and past recipient of NEA and Guggenheim fellowships, represented the United States at the Bienal de Sao Paolo in 1998. She is a Professor of Art at Bard College, and lives and works in the Hudson River Valley.
Museum, Mission and Meaning: Selections from the Collections
January 23 – February 11, 2007
East Wing Galleries
This installation marks the first in a series of long-term installations in three of the SDMA's spectacular east wing galleries, dedicated to displaying work from its diverse collections. A museum's value is determined, to a large extent, by the uniqueness of the objects it holds in trust, and how it interprets and uses the contents of its collections. The works on display here are designed to demonstrate the growth and development of collections at the SDMA, and to underscore the areas of focus and strength that are particular to the museum.
---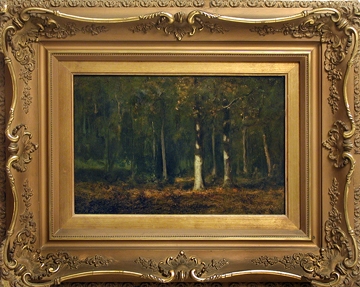 George Inness, Montclair, New Jersey, 1885, Gift of Elizabeth Koppitz, 1961.001.002
A survey of 19th and 20th century American prints, drawings, paintings, and sculpture selected from the permanent collection. The SDMA has a special commitment to collecting important works of art created by artists whose careers are linked to the Hudson Valley and Catskill regions. Works from the permanent collection on display in the Morgan Anderson Gallery will include including works by George Inness, Milton Avery, George Bellows, Bolton Coit Brown, Ilya Bolotowsky, Doris Lee, Lilly Ente, Eugene Speicher, Charles Rosen, Austin Mecklem, Theodore Roszak, Richard Segalman, and Don Nice. Many of the artists featured in this gallery were associated with the historic Woodstock Art Colony.
Sid Grossman, Untitled, ca. 1945, Gift of Howard Greenberg 2004.038.117
First dedicated in 2005, this gallery focuses on the SDMA's extensive photography holdings, which include both the museum's own permanent collection and the collection of the Center for Photography at Woodstock which is housed at the SDMA. Works on view will include major recent acquisitions, including two rare issues of Alfred Stieglitz's magazine Camera Work. The collections span a broadcross-section of the history of photography, from 19th century images of the Adirondacks by Seneca Ray Stoddard and pictorialist portraits by Eva Watson Schütze, to work by renowned mid-20th century photographers such as Aaron Siskind, Edward Steichen, Josef Sudek, Sid Grossman, and Weegee, to significant bodies of work by more contemporary figures like Larry Fink, Mark Goodman, Joel Meyerowitz, and Allen Ginsberg.
Unknown Egyptian, Child-god, late 4th–3rd century B.C.E., Gift of the New Paltz Arts and Crafts Society, 1957.005.011
Committed by its mission to collecting, researching, interpreting, and exhibiting works of art from diverse cultures, the SDMA's permanent collection spans a period of almost 4,000 years, and includes art and artifacts from Africa, Asia, Oceania, and the Americas. On view in the Corridor Gallery will be outstanding examples from the museum's rarely seen world study collection, including Chinese and Japanese woodblock prints, Australian bark paintings, and pre-Colombian art and artifacts. Made newly accessible through this installation, this broad group of works serves to complement museum's other holdings, and to support the teaching mission of the college.
BFA/MFA Thesis Exhibitions

December 1–12, 2006
Alice and Horace Chandler & North Galleries
MFA/BFA I December 1–4
Colette Burmester | Jin Won Chang | Shannon Corrigan | Mary Godfrey | Elizabeth Goss | Victoria Mahoney | Christina Mazurowski | Rhea Vedro | Janet Walsh
MFA/BFA II December 8–12
Daniel Bejar | Erica Engstrom | Hyomyung Kang | Jennifer Kingman | Nancy Lewis | Victoria Ohman | Alina Postula | Carly Still | Lauren Stillman
---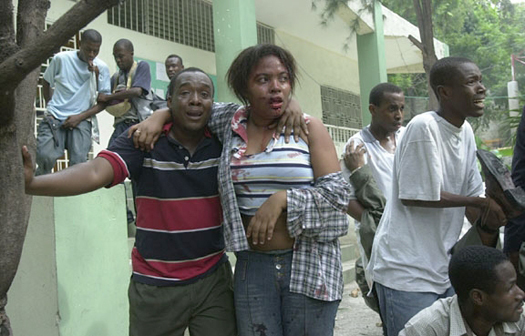 Daniel Morel, Injured and panicked students and professors shout for help after they were attacked by pro-Aristide thugs who attacked their march at State University, December 5, 2003, Courtesy the artist and Wozo Productions
October 4 – December 10, 2006
Sara Bedrick Gallery
For more information about this project visit, www.facingourhistory.org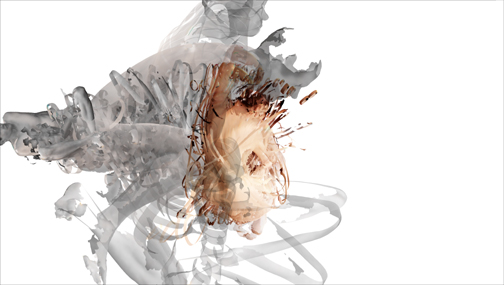 October 7 – November 19, 2006 Alice and Horace Chandler & North Galleries
October 7 – November 19, 2006
Alice and Horace Chandler & North Galleries
Susan Wides, Hudson River Landscape 10.15.04, courtesy Kim Foster Gallery, NYC
August 29 – September 22, 2006
Sara Bedrick Gallery
In this new series of photographs made near Wides' woodland home in the Catskills, she focuses on the grandeur of the landscape that captivated the Hudson River School of painters.
It was Thomas Cole's view that it was all right, even necessary to falsify observed nature in the name of some higher truth. As it was for the Hudson River painters, transformation is a potent force in these photographs. Wides transforms ordinary reality into majestic scenery. A truck dump near Cole's house is rendered as something like a botanical garden of refuse, as certain objects and details loom into consciousness with heightened clarity while the rest fade away into dreamy abstraction. The boundaries between fact and fiction, recollection and preservation are blurred. Picking up a thread common to all of Wides' work, this series explores the play between the exterior world and the subjective one.
The photographs of Susan Wides have been featured in numerous exhibitions in the US and Europe. Her work has appeared in the anthologies One Man's Eye and Here is New York. She has contributed to several magazines, including Harpers, Double Take,Architecture and 2wice. Her work is in the permanent collection of the Norton Museum of Art, International Center of Photography, The Art Museum of Princeton University, Brooklyn Museum, Bibliotheque Nationale and the Center for Creative Photography.
BFA/MFA Thesis Exhibitions
April 28 — May 24, 2006
Alice and Horace Chandler & North Galleries
BFA I April 28 – May 3
Jane Bishow-Semevolos | Karen Blase | Jennifer Born | Tamara Cohen | Jessica Fitzgerald | Christine Huhn | Natalie Iovino | Erin Kowalewski | Michelle Quartin | Amanda Reardon | Jodi Rosenblatt | Nichole Shakar | Catherine Vey
BFA II May 5–10
Priscilla Bissi | Jenny Brover | Mike Brown | Cory Casella | Elizabeth Christ | Chris Fiumano | Ashley Harris | Amie Laino | Jeff Meyer | Jennifer Olsen | Erik Schoonebeek | Bette Sloan | David Walton | Bonnie Watts
GRAPHIC DESIGN OMNIBUS: Friday, May 5th
Michael Akuamoah-Boateng | John-Paul Cannucciari | Chris Capozzi | Makiko Fukaya | Jeffrey Peltzman | Alex Shilin
MFA I May 12–17Hynek Alt & Aleksandra Vajd | Oliver Brooks | Kit Burke-Smith | Ricardo Febré | Jeesoo Lee | Jason Lombardi | Michelle Martin | Junko Nomura | Steve Rossi | Jin Ah Son | Mike White
MFA II May 19–24
Shihoko Amano | Audrey Francis | Colleen Heineman | Christopher Lisio | Sarah Pratt | Lauren Simon | Hisano Takei | Kristine Corso Tolmie | Rita Varian
---
Asher Brown Durand, Woodland Interior, c. 1855, Private collection
February 4 – May 14, 2006
East Wing Galleries
A special exhibition of 19th century American landscape paintings by artists associated with the Hudson River School of painting. The exhibition features paintings grouped by pairs or arranged in series so the viewer can see how different generations of Hudson River School artists interpreted the majestic American landscape. The Hudson River School, considered by many to be the first truly American school of painting, flourished between 1825 and 1875. The three generations of artists (71 in all) represented in the exhibition of 116 paintings are assembled from one private collection.
Generous support for this exhibition and related programs provided by the Friends of the Samuel Dorsky Museum of Art, The Dorsky Foundation, James H. and Mary Ottaway, Morgan Anderson Consulting, Hudson United Bank, and KeyBank
American Scenery: Different Views in Hudson River School Painting is organized and toured by Westmoreland Museum of American Art, Greensburg, PA.
Second Nature: Selected Works by the Art Faculty
February 4 – April 2, 2006
Alice and Horace Chandler Gallery & North Gallery
What does the word "nature" mean in the 21st century? In the context of contemporary, technology-driven, post-industrial culture, our relationship to nature has become vexed, as the boundaries between the natural and the artificial have become more and more blurred. The work in this exhibition represents a range of artistic responses by members of the SUNY New Paltz art faculty on this theme, including painting, drawing, sculpture, photography, ceramics, printmaking, new media and installation. The diversity of these media reflect the varied approaches taken by these faculty members as they address issues of place, the environment, and our response(s) to them, as we begin to appreciate what has been lost, what has been gained, and how we will continue to shape our relationship to 'nature'—whatever we decide that means—in the future.
Participating artists: Joan Barker, Karen Capobianco, Amy Cheng, Kathy Goodell, Itty Neuhaus, Matthew Palin, Chunsoo Park, Gabriel Phipps, Emily Puthoff, Thomas Sarrantonio, Anat Shiftan, Elena Sniezek, Suzanne Stokes, Pamela Wallace