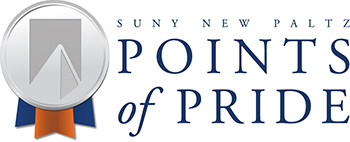 The mission of the SUNY New Paltz Honors Program is to provide an enhanced intellectual experience in a climate conducive to interaction among highly motivated students and faculty. This experience will seek to develop and intensify skills from a conceptual point of view in a diverse multidisciplinary analytical environment that nurtures independent thinking, creativity, respect and social responsibility.
Goals:
To build and sustain a diverse community that reflects the student body of the campus.
To integrate this scholarly community within the larger campus.
To promote deep engagement with ideas through innovative pedagogy and creative, interdisciplinary curriculum.
To nurture intellectual leadership as well as a sense of social responsibility and civic engagement - -on campus, in the village, within the state, or, ideally, internationally.
Learning Outcomes:
To demonstrate excellence in analysis and problem solving skills.
To demonstrate an ability to theorize usings interdisciplinary processes.
To develop communication skills (oral, written, collaborative).
To develop skills to communicate with general and specialized audiences.
To practice and reflect on civic engagement.
The Honors Program consists of around 230 students. Once admitted to the program, students take special Honors seminars, which are interdisciplinary and small in size (usually around 15 students). Unlike traditional lecture courses, Honors seminars emphasize dialogue and non-lecture based learning; students are expected to come to class with something to say and to actively participate in debate and discussion.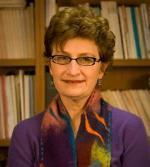 Dr. Patricia Sullivan, Director
Office: CH-H 111
Phone: 845-257-3456
Email: sullivap@newpaltz.edu
Office Hours:
Tuesday: 2-5 p.m.
Wednesday: 3-5 p.m.
Thursday: 10 a.m.-12 p.m.
Friday: 9:30-10:30 a.m.
And by appointment
Dr. Pat Sullivan is the director of the Honors Program at SUNY New Paltz and professor in the Department of Digital Media & Journalism. She served as department chair for seven years. She specializes in the study of rhetoric or public communication and has published criticism on a variety of texts (e.g., political speeches, U.S. Supreme Court decisions, autobiographies, media coverage). Current research interests focus on gender, race, and class issues in political communication; political apologies; and ethics and political communication. She is co-author of From the Margins to the Center: Contemporary Women and Political Communication and co-editor of Political Rhetoric, Power, and Renaissance Women and New Approaches to Rhetoric. Her articles have appeared in journals such as Quarterly Journal of Speech, Communication Quarterly, Western Journal of Communication, and Women and Politics. For the Honors Program, she teaches seminars on "The Individual and Society" and "Debates in U.S. History." As a member of the Department of Digital Media & Journalism, she teaches "Introduction to Media Criticism" and "Aesthetics and Criticism of Television". She received her B.A. in English and communication from Marquette University and her Ph.D. in communication (rhetorical studies) from the University of Iowa.
---

---
Events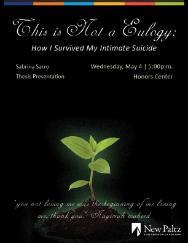 "This is Not a Eulogy: How I Survived My Intimate Suicide." Sabrina Sarro's Honors Thesis Presentation.
5 p.m. Wednesday, May 4, in the Honors Center.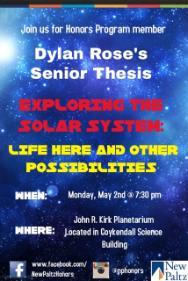 "Exploring the Solar System: Life Here and Other Possibilities." Dylan Rose's Honors Thesis Presentation.
7:30 p.m. Monday, May 2, at the John R. Kirk Planetarium.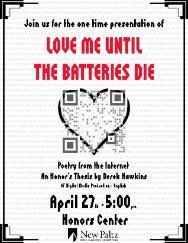 "Love Me Until The Batteries Die." Derek Hawkins' Honors Thesis Presentation.
5 p.m. Wednesday, April 27, in the Honors Center.
"Immigration and the U.S. Legal System: The Judge, The Prosecutor and the Advocate."
5:30 p.m. Monday, April 25, in the Honors Center.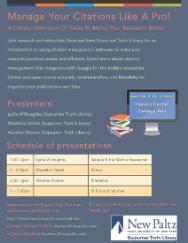 "Manage Your Citations Like a Pro!" Presented by Lydia Willoughby, Madeline Veitch, and Heather Shimonof the Sojourner Truth Library.
1:30 p.m. Thursday, April 14, in the Honors Center.
Honors Program Thesis Presentations
Wednesday, April 13, 2016
1 - 2:15
1 -1:15 Michael Grossman, "NAFTA and the CTPA: A Case Study in the Footwear Industry" (Major: Latin American & Caribbean Studies)
1:15-1:30 Marie D'Apice, "Holistic Healing: Using Energy Awareness After Trauma to Enlighten, Empower, and Engage" (Major: English, Minors: Psychology & Theatre Arts)
2 -2:15 Ann O'Brien, "Optical Micromanipulation in Beams with Polarization Singularities" (Major: Physics, Minors: Art Studio & Mathematics)
11 -12:45
11 -11:15 Catherine Rubino, "A Kunderian Investigation Into the Past" (Major: English, Minor: Journalism)
11:15-11:30 Eli Reisman, "The Effects of American Textile Demand on Bangladesh Society" (Major: Geology (Environmental Geoscience)
11:30-11:45 Kaylie Pyrch, "TransGeneration" (Major: Graphic Design"
12:30-12:45 Denera Ragoonanan, "The Role of Civil Society in the Liberal Development of Turkey" (Major: International Relations, Minor: Economics)
Friday, April 29

, 2016
1 -3:30
1 -1:15 Jesse Pilnik, "Super Senses: Developing a Multiplatform Children's Television Show" (Major: Digital Media Program & Management, Minors: Theatre Arts, Film & Video Studies, Business & Communication)
1:15-1:30 Lauren Gao, "Tagalog Possessives: A Syntactic Analysis of Shoes and Who They Belong To" (Major: Communication Studies (Interpersonal/Intercultural)
1:30-1:45 Matthew Farragher, "Freshwater Ecosystems of the Shawangunk Ridge" (Major: Environmental Geochemical Science)
2 -2:15 Stephanie Black, "The Misunderstood Sister - An Exploration of How Social Media Has Altered the American Perception of Women Across the World" (Majors: Journalism (Public Relations) & Communication Studies (Interpersonal/Intercultural), Minor: Spanish)
2:15-2:30 Hanna Kasahara, "Developing Gender Equality Through Women, Peace and Security Agenda" (Major: International Relations, Minor: Asian Studies)
2:30-2:45 Mackenzie Cummings, "The Biochemistry of Long Distance Running: Snapshots of Metabolism Throughout a Long Distance Effort" (Major: Biochemistry, Minor: Psychology)
2:45-3 Anthony Albanese, "Testing the Opium: An Analysis of Religion's Effects on Political Militancy" (Major: Sociology, Minor: Religious Studies)
3 -3:15 Kyra Nolte, "Buried Roots in Mexico: A Brief History of Institutionalized Violence, the Movements That Have Grown in Response, and a Discussion of U.S. Censorship" (Major: Anthropology, Minors: Evolutionary Studies & Spanish)
3:15-3:30 Betsy Wiener, "Why Should the U.N. Write a Convention for the Rights of Elderly and Aging Populations? Effects of Class and Differences in Elderly Populations of Latin America and the Caribbean" (Major: Sociology (Human Services), Minor: Deaf Studies)
3 -5:45
3 -3:15 Morgan Hennessy, "Building a Brand" (Major: Digital Media Production)
3:15-3:30 Julia Ponder, "Subtle Predictions" (Major: Adolescence Education: English, Minor: Creative Writing)
3:30-3:45 Kelly Lindberg, "New Paltz Zine Community: Aboveground and the Underground Converge" (Majors: Digital Media Production and Management & English)
4 -4:15 Sarah Broughton, "Clash of the World: Deaf Culture and Medical Views on Cochlear Implants" (Major: Communication Disorders, Minors: Deaf Studies & International Relations)
4:15-4:30 Abigail Gallagher, "How to Grieve (A Mixed-Genre Memoir)" (Major: English (Creative Writing), Minors: Women's Gender & Sexuality Studies & Psychology)
4:30-4:45 Micaela Kayser, "Queering the Common Core: Finding a Place for Queer YA Fiction in High School English Classrooms" (Major: Women's Gender & Sexuality Studies, Minor: Sociology)
4:45-5 Rosemarie Mulligan, "Dancing With Your Hands" (Major: Early Childhood Education & Childhood Education B-6 (Biology B-6)
5 -5:15 Casey Morris, "The Land of Sewertopia" (Major: Theatre Arts (Performance), Minor: Economics)
5:15-5:30 John Carey, "Unequal Under the Law: Income Inequality and Justice in America in the 21st Century" (Major: International Relations, Minor: Geology)
5:30-5:45 Janet Roberts, "The Value of Feeling: An Examination of the Implications of the Decrease in Emphasis on Empathy in Reading Curriculum on Children's Learning" (Major: Early Childhood Education & Childhood Education B-6 (English B-6)
There will be more events added to this list as the semester progresses.
SUNY New Paltz Accepted Students Day Speech