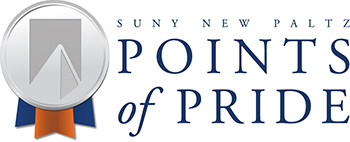 Mechanical Engineering is the latest addition to the well-respected undergraduate and graduate programs in Electrical Engineering and Computer Engineering offered by SUNY New Paltz.
Innovation, creativity, and cutting edge learning are the long recognized hallmarks of the Department of Engineering and the School of Science and Engineering.
The SUNY New Paltz Advantage:
An engineering program with a focus – undergraduate students.
Small classes and labs – from freshman through senior year.
Close faculty interaction with real faculty – advising, mentoring, and collaborating.
Faculty with real world experience – who teach (not the TAs).
Real world experiences – internships, independent and mentored research.
A well-rounded education- based on a broad General Education experience, a firm grasp of the fundamental knowledge and skills of mathematics and natural science.
An innovative integration and collaboration between engineering and the fine arts.
Quality facilities, including student use of the nation's first MakerBot Innovator Center (3-D Design, Fabrication, & Printing) for rapid prototyping, starting in the freshman year.
Graduates who are well prepared for life after graduation – entering the nation's finest graduate programs and employed by top regional and national firms and agencies.
Accreditation
The Division of Engineering Programs began offering mechanical engineering starting in Fall 2014. Per Accreditation Board for Engineering and Technology (ABET) rules, accreditation can be granted only if at least one student has graduated from the designated program. We anticipate this will occur in Spring 2017. Henceforth, all initial and subsequent graduates will be covered by the accreditation.
Mechanical Engineering continues to be a growing program in the filed of engineering due to a rapidly changing technological society and expanding industrial needs. The program at New Paltz is design to meet these needs generally and those of Mid-Hudson Valley specifically.
The curriculum consists of a humanities and social sciences component, a pre-engineering phase (pre-engineering major code 516) and upper division engineering coursework (mechanical engineering major code 521). Mechanical engineering students must meet a modified General Education 2 requirement. This includes the pre-engineering courses in mathematics and science and the humanities/social science sequence. The pre-engineering and humanities/social science requirements are exactly the same for all engineering programs.
FOR PROGRAM INFORMATION CONTACT:
Division of Engineering Programs
State University of New York at New Paltz
102 Resnick Engineering Hall
1 Hawk Drive
New Paltz, New York 12561
845-257-3720
engr@newpaltz.edu
www.engr.newpaltz.edu
FOR ADMISSIONS INFORMATION CONTACT:
Office of Undergraduate Admission
State University of New York at New Paltz
100 Hawk Drive
New Paltz, New York 12561
845-257-3200
admissions@newpaltz.edu