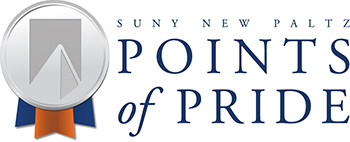 The Division of Engineering Programsat SUNY New Paltz is committed to academic excellence. We offer high-quality undergraduate and master's programs that prepare students to participate effectively as members of the engineering profession of today and tomorrow and to function as thoughtful and responsible members of modern society. We strive to create and maintain a challenging learning environment supportive of engineering study for a diverse student body. As well, we provide engineering education and technical support to the campus community, regional industry and the community-at-large.
Mission
This mission follows closely those of our institution and is stated as:
Offering high-quality undergraduate programs in Electrical and Computer Engineering and a master's program in Electrical Engineering to a diverse student body;
Providing engineering education and technical support to the campus community, regional industry and the community-at-large;
Admitting students who show promise of succeeding in the challenging field of engineering;
Having our students gain technical knowledge, social skills and confidence to contribute as productive and responsible members of the engineering profession and the society.


Computer Engineering - Accreditation
The Division of Engineering Programs offers a comprehensive program in computer engineering which is accredited by the Engineering Accreditation Commission (EAC) of the Accreditation Board for Engineering and Technology (ABET). Students may choose electives in computer hardware, software engineering, computer and information engineering and communication and networking.
The computer revolution has changed the way in which we live, work and play. Computer engineers are at the heart of this rapid development. Career opportunities for computer engineering graduates continue to be plentiful. The New Paltz program is designed to meet these needs generally and those of the MidHudson Valley specifically.
The curriculum consists of a humanities and social sciences component, a pre-engineering phase (preengineering major code 516) and upper division engineering coursework (computer engineering major code 518). Computer engineering students must meet a modified General Education 2 requirement. This includes the pre-engineering courses in mathematics and science and the humanities/social science sequence. The pre-engineering and humanities/social science requirements are exactly the same for all engineering programs.
Program Educational Objectives of the Computer Engineering Program
Program Educational Objectives describe the career and professional accomplishments that the program is preparing graduates to achieve in three to five years.The educational objectives of the Electrical and Computer Engineering program are to produce graduates who attain:
An ability to enter professional careers or pursue graduate studies in electrical or computer engineering or related fields.
An ability to advance in their professional careers through completion of engineering projects that utilize teamwork and communication skills, lifelong learning, independent and creative thinking, and leadership, with adherence to the highest principles of ethical conduct.
OR
An ability to advance in their careers by completing graduate coursework, earning graduate degrees, and conducting, presenting and publishing original research, with adherence to the highest principles of ethical conduct.
An ability to work beyond their primary responsibilities by providing service through active membership in professional societies and/or by being a productive member of their community.
Student Outcomes of the Computer Engineering Program
Engineering students, by graduation time, will attain:
an ability to apply knowledge of mathematics, science, and engineering
an ability to design and conduct experiments, as well as to analyze and interpret data
an ability to design a system, component, or process to meet desired needs within realistic constraints such as economic, environmental, social, political, ethical, health and safety, manufacturability, and sustainability
an ability to function on multidisciplinary teams
an ability to identify, formulate, and solve engineering problems
an understanding of professional and ethical responsibility
an ability to communicate effectively
the broad education necessary to understand the impact of engineering solutions in a global, economic, environmental, and societal context
a recognition of the need for, and an ability to engage in, life-long learning
a knowledge of contemporary issues
an ability to use the techniques, skills, and modern engineering tools necessary for engineering practice.
Annual student enrollment and graduation data
Undergraduate Computer
Engineering Enrollment

Fall

Spring

2008 -2009

30

27

2009 - 2010

32

37

2010 - 2011

45

41

2011 - 2012

60

57

2012 - 2013

66

56

2013 - 2014

61

BSCE Degree Granted

2008 -2009

4

2009 - 2010

1

2010 - 2011

3

2011 - 2012

4

2012 - 2013

6
COMPUTER ENGINEERING CURRICULUM
The Division of Engineering Programsoffers a comprehensive program in computer engineering which is accredited by the Engineering Accreditation Commission (EAC) of the Accreditation Board for Engineering and Technology (ABET). Students may choose electives in microelectronics, communications, signal processing, control, robotics, energy conversion, microwaves, electromagnetics and computer engineering.
Computer engineering continues to be a growth program in the field of engineering due to a rapidly changing technological society and expanding industrial needs. The program at New Paltz is designed to meet these needs generally and those of the Mid-Hudson Valley specifically.
The curriculum consists of a general education component, a non-engineering foundation, and upper division engineering coursework (computer-engineering major code 518). Computer engineering students must meet a modified General Education requirement. The non-engineering and general education requirements are exactly the same for the electrical engineering and the computer engineering programs.
Our curriculum is designed to provide students with a solid knowledge of mathematics, science and engineering concepts and the ability to apply them to engineering problems. Design is emphasized throughout the engineering program. Students also complete a series of courses in general education that complement their engineering education and encourages them to understand engineering roles in a broader context. The flexibility of the engineering curriculum serves full- and part-time students, traditional and non-traditional students, and students new to engineering as well as those who have had some experience in technical areas.
5-YEAR B.S. IN COMPUTER ENGINEERING / M.S. IN ELECTRICAL ENGINEERING
This program is to facilitate a fast-track Master of Science degree in electrical. The program is open to SUNY New Paltz students who are currently enrolled pursuing a Bachelor of Science in electrical or computer engineering in their last semester of the junior standing. To be eligible, students must have completed the first semester of their junior year in residence at SUNY New Paltz. Moreover, they must have an overall SUNY New Paltz GPA of at least 3.0. The qualified students may apply for admission to the Graduate School through the Department of Electrical and Computer Engineering. The accepted students are permitted to enroll in two 500-level graduate courses (six credits). These courses, in addition to satisfying students' bachelor's degrees, will count toward their master's degrees. The remaining 24 credits of the master's requirement will be taken in the fifth year of study. Once admitted to the B.S./M.S. program, students must maintain a 3.0 cumulative GPA in all courses through the senior year. In addition, students must earn a B or better in each of the two graduate courses. Students not satisfying these requirements will be re-evaluated for continuation in the program.


GENERAL INFORMATION
Graduates
Our students graduate with an understanding of the roles, responsibilities and professional ethics expected of engineers; with the communication and teamwork skills needed to function effectively in a range of work environments and with the ability to think critically and adapt to a changing world. Our graduates are well prepared to be successful in entry-level positions in industry and research and to pursue further study and advancement in their chosen fields.
Industry Involvement and Co-op/fieldwork Program
A key feature of engineering at New Paltz is the close working relationship the Department enjoys with local high-technology industry. The interest and support of industry inspired the development of the program and now ensures that it will remain relevant to expanding and changing industrial needs. We encourage our students to participate in co-op/fieldwork experiences while at New Paltz, and we maintain a high after-graduation placement rate. Students, who complete a pre-arranged and supervised co-op/fieldwork and submit a report, receive 3 credits.
Engineering Advisory Board (EAB)
The Engineering Department has a very active external advisory board with participants contributing from the many high tech engineering and related companies located in the Hudson Valley. The EAB's mission is "to provide information and guidance to the SUNY New Paltz Engineering Department in regards to their curriculum, their graduates and the quality of things being done at SUNY New Paltz and to help steer the direction of the engineering board to create the best quality students they can to provide superior professionals for local industries". Some of the specific functions of the EAB are: to assist in providing co-op or intern positions for our students; to provide information and opportunities for full time employment for the graduating students; help identify speakers for the engineering seminar program; and provide feedback for the engineering curriculum.
Undergraduate Research Opportunities
Opportunities are available for undergraduate students through the C-STEP Program (for woman and minority students) and the School of Engineering and Science (for all students) to conduct research during the summer. Students receive a generous stipend. Undergraduate research enhances student's chance in finding a suitable engineering job.
Learning Environment
Engineering students at New Paltz have the opportunity to study in an environment supportive of their academic needs. Engineering courses are taught by research-oriented engineering faculty; small class and laboratory sizes encourage faculty/student interaction. Students have access to a well-equipped infrastructure including state-of-the-art facilities, industry-standard laboratories and modern computer facilities.
The Program Requirements Checklist
Each program requirements are listed in the program course checklist and are included in every student file.
At the end of each semester, student grades are transferred into the program course checklist. When the course checklist is completed, and the student has satisfied all program requirements, he/she is then eligible to graduate. The program course checklist is used for advising and planning purposes as well.
Seminars
The Engineering Department offers several seminars each semester that cover a variety of subjects. To partially satisfy the life-long requirement of ABET (The Accreditation Board for Engineering and Technology), engineering students are required to attend at least five engineering seminars and write a brief report on each one (that is to be included in their file). Only two reports per semester are accepted.
Engineering Design
ABET requires that each student complete one and one half years of engineering topics to include engineering sciences and engineering design appropriate to the student's field of study. At New Paltz, the design experience is developed and integrated throughout the engineering curriculum.
The experience begins in Introduction to Engineering with an introduction to basic engineering design. As engineering majors progress through the major they gain engineering design experience at increasing levels of complexity within many of the engineering core and technical elective courses. Open-ended problems are assigned and students must complete design projects in many of their courses. Advanced elective coursesafford students the opportunity to complete more substantial design projects in their areas of interest.
To assist students in choosing courses with appropriate design content, each course is assigned a number of design credits. Our engineering programs require sixteen or more engineering design credits to be completed by the time of graduation. Each student is required to maintain a design folder on file with the Department of Electrical and Computer Engineering. By the time of graduation, the folder must contain at least 5 increasingly complex design projects, for which two projects must be from an elective and/or senior level courses. (This is a strict graduation requirement.)
In the senior year, the design experience culminates in a major design project completed in the courses -Senior Design I and II. Under the guidance of the engineering faculty, students draw on the technical knowledge and skills that they have developed throughout the undergraduate experience in order to select and complete a substantial design project. The project grade is based on a formal report, an oral presentation (attended by engineering faculty, students, and constituents), and the project's overall performance. Senior design projects may be chosen from any of the areas of specialization in which the Division of Engineering Programsoffers technical elective courses.
Department Support in Student Activities and Senior Design Projects
The Department financially supports student related activities such as: job fairs, conferences and compensates (a reasonable amount) the cost of Senior Design Projects.
STUDENT ORGANIZATIONS
Students are encouraged to involve themselves in one or more of the organizations within the Department. Such interaction supplements the classroom experience. Part of this experience may be provided by the activities of these organizations, and they are recommended for the student as a balancing influence.
Eta Kappa Nu
HKN is the national electrical and computer engineering honor society. The chapter at SUNY New Paltz was established in New Paltz in 1999. The society's purpose is to recognize outstanding juniors and seniors in Electrical and Computer Engineering and to promote interaction between faculty and students. Candidates for membership are by invitation and have been judged worthy not only by their academic excellence, but also in regard to their qualifications, in respect to: common sense and the ability to use the knowledge, information and ideas they have acquired; capacity and willingness for hard work; congeniality and adaptability for working in harmony with all sorts of people. Formal initiations are held once a year, either in the fall or spring semester. HKN sets up tutoring schedules and supports various Department social activities.
Institute of Electrical and Electronics Engineers (IEEE)
IEEE is the major professional organization of electrical and computer engineering. Each school has a student branch which is intended to sponsor a social and professional program to familiarize the student with the parent organization, which is the second largest professional society in the world. The student branch sponsors tours of various facilities on and off campus and promotes seminars. Members attend an IEEE Banquet hosted annually
By the Mid-Hudson Section; members receive a monthly magazine, as well as reduced rates on other technical publications of special interest. Membership is open to all students in Electrical and Computer Engineering or Computer Science and Engineering curricula.
NSBE (National Society for Black Engineers)
NSBE's mission is "to increase the number of culturally responsible Black Engineers who excel academically, succeed professionally and positively impact the community." NSBE strive to accomplish the following: stimulate and develo0p student interest in the various engineering disciplines; strive to increase the number of minority students studying engineering at both the undergraduate and graduate levels; encourage members to seek advanced degrees in engineering or related fields and to obtain professional engineering registrations; promote public awareness of engineering and the opportunities for Blacks and other minorities in that profession; function as a representative body on issues and developments that affect the careers of Black Engineers.
SWE (Society of Women Engineers)
Why join SWE? When you join SWE you're joining more than an organization – you're joining a movement toward equality and opportunity for women in engineering. Our mission is focused but our impact is vast. We provide the resources you need whether you are beginning, resuming, or building your career. We also encourage creative and intelligent girls at an early age to explore the field of engineering.
SWE was started at SUNY New Paltz in 2008 and is very active. Men are welcome also.
SUNY Hawk Solar Car Racing Team
SUNy Hawk Solar Car Racing Team is not open just to Electrical and Computer Engineering students but to all students. Students experience, from beginning to end, the whole design process using cutting edge technologies in various fields of engineering. The team has participated in track races with some of the top universities in the country, races in Texas, and will be going cross county from Texas to Canada in 2010.