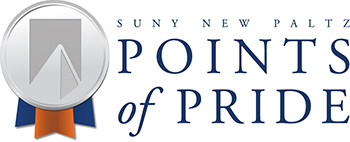 M.S. in Communication Disorders: Speech-Language Disabilities Concentration 090I
Leading to the Professional Certificate - Teacher of Students with Speech and Language Disabilities, New York State Licensure, and A.S.H.A. Certification
Major plan for entry at the graduate level without the Initial Certificate - T.S.S.L.D.
* A literacy course offered by Elementary Education may be substituted, by advisement
Download a printable copy of the major plan and typical course sequence for M.S. in Speech-Language Disabilities.
The Professional Education Unit at the State University of New York at New Paltz is accredited by the National Council for Accreditation of Teacher Education (NCATE), 2010 Massachusetts Ave., NW Suite 500, Washington, DC 20036; phone (202) 466-7496. This accreditation covers initial teacher preparation and advanced preparation level programs.