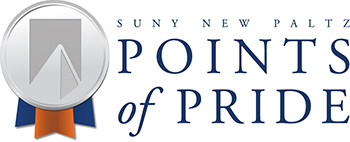 LA&S Faculty Receive Provost Awards
In spring 2014, LA&S faculty members earned three Provost Awards for Faculty Excellence for their outstanding achievements in fulfilling New Paltz's educational mission.
Hamilton Stapell
In the classroom, Associate Professor of History Hamilton Stapell is the "guide on the side," encouraging students to be prepared, be engaged and take an active role in their education.
For his student-centered approach to teaching, Stapell has earned the Provost Award for Teaching Excellence, just a year after being named the College of Liberal Arts and Science's Teacher of the Year.
Among other qualities, the Provost award recognizes the teacher's use of innovative teaching methods and practices. Stapell continuously experiments with new instructional methods to maximize student engagement, and always puts his students at the center of the classroom experience. The majority of his courses are discussion-based. He provides presentation guidelines and encourages his students to be creative and take ownership of the material.
He believes in empowering students to wrestle with difficult subject matter in his courses on European Intellectual History, Modern Spain, Medieval and Modern Europe, and others, and does not shy away from assigning challenging texts by authors such as Michel Foucault and Immanuel Kant.
"I believe strongly in having high expectations for my students and teach believing they can rise to the occasion. And they can, they do," said Stapell.
Stapell believes that for a classroom truly to be student centered, the instructor must make clear to students that the course will be demanding. Students are expected to complete a variety of assignments, such as long research papers, short reaction papers, argumentative essays, group projects and oral presentations. Students in his upper division courses also engage in short oral evaluations, or After Action Reports, at the end of each class session, providing feedback on the day's discussion.
"It's critical for students to understand my expectations and how this course is going to work. My point is to be upfront and honest. I try to make the path to success clear and give them the tools to succeed, but it's ultimately up to them. I won't do it for them," said Stapell.
In demanding more from his students, Stapell also asks more of himself. He takes classroom leadership seriously, and believes that he must model the behavior he expects of his students. "The only way to lead is to lead by example. If I expect my students to come on time, be prepared and be engaged with the material, then it's my responsibility to show them how to do that," he said.
The Provost award for Teaching Excellence not only recognizes outstanding classroom instruction, but expects the successful candidate's engagement in a larger dialogue about teaching and learning. In his first academic year at New Paltz (2008-2009), Stapell sat in on all of his History Department colleagues' classes (11 in total), and frequently attends teaching workshops and clinics. "I'm always looking for feedback, always looking for ways to do it better," he said.
Stapell also engaged his colleagues in dialogue during an invited presentation that followed his recognition as the Liberal Arts and Sciences Teacher of the Year for 2012-13. At this April 2014 Teaching and Learning Center event, Stapell offered his philosophy of "the guide on the side," shared handouts with colleagues, and answered numerous questions from the audience.
Stapell routinely integrates his scholarship into his teaching practice. He created two senior seminars: Madrid, Past and Present, which built upon the work of his first book, Remaking Madrid: Culture, Politics, and Identity after Franco; and Degeneration, Health and Modernity, which explored a new research interest, European urbanization and industrialization and its connection to the Physical Culture Movement's focus on health and fitness.
This summer, Stapell will teach a new online summer course on Evolution and Human Health, which he designed in consultation with the interdisciplinary Evolutionary Studies Board. The course allows Stapell to build upon current research on the Ancestral Health Movement and further his personal interest in health and evolution. Stapell taught the Evolutionary Studies Program's capstone course this spring.
Translating his student-centered classroom approach to an online platform has proven challenging, but Stapell welcomes the opportunity to teach in a new way. He has reached out to online-savvy colleagues for help and guidance. "Online courses are here to stay and I want to experience it for myself," he said.
In describing his teaching philosophy, Stapell emphasizes his desire to help students become "life-long learners," another behavior he models at New Paltz.
"Teaching is really hard to do well, and you can always do it better. That possibility for improvement gets me up in the morning," he said.
Eve Waltermaurer
For her strong record of publications, contribution to the advancement of knowledge in her field, and successful integration of research and scholarship into her teaching practice, Eve Waltermaurer has received the Provost Award for Excellence in Scholarly/Creative Activity.
Waltermaurer, who joined the New Paltz faculty in 2003, is an Associate Professor of Sociology and the Director of Research and Evaluation for the Center for Research, Regional Engagement and Outreach (CRREO).
Walte
rmaurer's scholarship focuses on violence, youth risk, health, and research methodology. Her training is in social epidemiology, and her research draws powerful connections between epidemiology and criminology, fields that have been traditionally distinct. In 2013, she was the lead editor of the seminal work, Epidemiological Criminology: Theory to Practice, which explored how interaction with crime (whether offenders, victims or law enforcement officers) puts people at unique health risks that they wouldn't otherwise encounter.
The risk factors for disease and violence are often the same. "Poverty, poor neighborhoods, family and race are associated with a person's risk for illnesses, and also their risk of engaging in criminal behaviors as well as being a victim of crime," Waltermaurer noted. "When the disciplines of public health and criminology do not work conjointly, this linkage is easily missed. Understanding this linkage is instrumental to the reduction of both outcomes."
Waltermaurer directs the Criminology Concentration in Sociology. Her courses include Crime and Society, Criminological Theory, Sociology of Violence, and Violence Against Women, as well as Research Methods and Social Statistics. In her teaching, Waltermaurer draws from her own research, and believes her sophisticated knowledge in methodology allows her to present the material to students in a meaningful, accessible way.
"I'm really good at research and statistics. Feeling so comfortable with it allows me to simplify it," said Waltermaurer. Waltermaurer's students who have advanced to graduate school frequently credit her teaching with preparing them for graduate-level methodology courses.
In her work at CRREO, Waltermaurer provides research and evaluation for numerous regional governmental and non-profit organizations. Waltermaurer defined her strengths as "translating conceptual ideas into measurable outcomes, defining clear and efficient metrics to assess program efficacy, and identifying key target groups for new programming."
Her work at CRREO is varied. She has conducted analysis of complex medical records of over 4,500 diabetic patients over a nine-year period, evaluated juvenile program grants, and assisted Ulster County with its four-year Community Health Assessment. "I'm always juggling about eight projects at a time," said Waltermaurer, noting that she can be called upon to assist at any stage in a project's progress – beginning, middle or end.
Waltermaurer frequently serves as the interpreter between the data and the people who need to use it. She describes her work at CRREO and in the classroom as "symbiotic," because the skills she has developed in explaining research to undergraduates have allowed her to communicate more effectively with service providers.
"Research makes me a better teacher and teaching makes me a better researcher," she said.
Navin Viswanathan
A decade ago, Navin Viswanathan was a thesis shy of a master's degree in mechanical engineering when he sat in on a developmental psychology course at the University of Connecticut. "I was really intrigued, and I thought, 'This is what I should be doing,'" said Viswanathan.
Without a single undergraduate psychology course on his transcript, he convinced the graduate program coordinator to admit him directly into the psychology PhD program. What Viswanathan calls "an extraordinary opportunity" proved a natural fit.
An Assistant Professor of Psychology, Viswanathan has distinguished himself as a prolific scholar in the field of speech perception, an excellent teacher, and a devoted mentor to students. This spring, he earned the Provost Award for Outstanding Pre-Tenure Faculty, which honors his ability to use innovative classroom strategies, promote active learning, consider student needs and interests, develop a clear scholarly agenda, and integrate research, scholarship, and creative activity into his teaching practice.
Viswanathan attributes the honor less to his impressive CV than his work with high caliber undergraduate student-researchers. "I'm very honored to have been recognized by my peers. I think it speaks to how much we can get done at New Paltz with the quality of undergraduates that we have," he said.
Viswanathan believes that student research projects are "the quintessential example of the overlap between teaching and research," and has mentored 20 undergraduate students in his five years at the university. Most are Psychology students, but others are majors in Communication Disorders, Linguistics, and Spanish who are interested in exploring speech perception through the lens of their particular fields.
"Research problems don't respect disciplines," Viswanathan noted. "Sometimes it's very enriching to work with students from another discipline who have other skills."
Viswanathan's research focuses on solving a cognitive science puzzle: How do humans effortlessly understand human speech and easily outperform automatic speech recognition systems (such as iPhone's Siri) in typical listening conditions? Through his work as the director of the university's Speech, Language and Cognition Lab, Viswanathan attempts to gain a deeper understanding of everyday behavior most people take for granted, such as one's ability to carry on a conversation at a noisy cocktail party or ability to comprehend a broad range of accented speech.
Grants from the National Science Foundation and National Institute of Health support Viswanathan's research on how listeners manage speech variability, and they provide an opportunity for students to be directly engaged in cutting-edge research.
Viswanathan has taught at all levels of the Psychology Department – from required courses in Introduction to Psychology and Research Methods, to the graduate Research Practicum. Viswanathan believes a quality psychology education asks several essential questions: "Can you think critically? Can you present your analysis and respond to criticism? Can you learn from feedback?"
The presentation skills students learn as psychology undergrads and graduate students transcend their field of study, Viswanathan noted. "It's a very important life skill because this is asked of you in various contexts, for many different jobs."
Viswanathan's own journey to find his chosen profession has convinced him of the importance of being "broadly prepared" for professional careers: equipped with the oral and written communication skills and critical thinking that are the hallmark of a liberal education.
"I often tell my undergrads that you don't know where your career will lead," he said.
---
Penny Freel Named LA&S Teacher of the Year
The College of Liberal Arts and Sciences has named Penny Freel '95g (English Literature) Teacher of the Year for 2013-2014.
Hired as a full-time lecturer in 2006, Freel has taught numerous sections of ESL/SWW
Composition 1 and 2; she also teaches courses in literature.
Prior to coming to New Paltz, Freel taught at the University of the Sacred Heart, an all female Catholic college in Tokyo, Japan (1995-2003). Professor Freel was hired as a "native English speaker" and taught everything from Composition to Film Studies to Public Speaking.
Freel has presented papers at the Annual Convention on College Composition and Communication; the SUNY Council on Writing; and the Council on Basic Writing. She is a regular participant in the SUNY New Paltz Composition Program Retreat. Her published articles on composition pedagogy have appeared in print or online in the Journal of Basic Writing and Basic Writing E Journal.
In honor of her achievement, Freel's name will be added to the Teacher of the Year plaque located in the Jacobson Faculty Tower lobby on the campus. She will also receive $1,000 to be used for professional development, and will present a talk or lead a workshop on pedagogy for interested faculty in the Center for Teaching and Learning.
Freel received a bachelor's degree in English Literature from Marist College in 1992 and a master's degree in English Literature from SUNY New Paltz in 1995.
---
LA&S Professors Earn Prestigious Fulbright Awards
Two College of Liberal Arts and Sciences professors, Salvatore Engel-DiMauro (Geography) and Michael Vargas (History) received the prestigious Fulbright Award for the 2013-14 academic year from the U.S. Department of State, Bureau of Educational and Cultural Affairs, which provides grants to graduate students, scholars, and professionals to study, teach and conduct research, exchange ideas, and contribute to finding solutions to shared international concerns.
Engel-DiMauro's project is titled "People-environment Relations, Urban Gardens, and Heavy Metal Contamination in Rome." He will be traveling to Italy after classes conclude next spring to deliver graduate level lectures, seminars, and workshops on urban environmental issues at the University of Rome La Sapienza. Among other things, his work will focus on human exposure to trace elements from eating food produced in the recently and rapidly expanding urban gardens of Rome. The Fulbright will also involve research on the factors fostering trace element movement from urban garden soils to crops. By combining teaching and research, the project will help broaden the university curriculum, integrate academic activities with local grassroots initiatives, raise awareness, and improve scientific knowledge about trace element contamination in urban environments.
Vargas is currently on sabbatical in Barcelona, Spain. An expert in medieval history, he received a Fulbright Senior Scholar grant to pursue his studies there at the Consejo Superior de Investigaciones Científicas – Milà i Fontanals. His paper "Pondering Dysfunctions in Heritage Protection: Lessons from the Theft of the Codex Calixtinus," will be published in an upcoming issue of the International Journal of Cultural Policy. He has just completed a paper "Measuring Dominican Influence: Some Conceptual Problems and Potentials," to be published in an upcoming collection on the influence of the Order of Preachers in Medieval Spain. His current projects include "Medieval History as a Creative Act in Modern Catalunya," and ongoing studies on Catalan control of Sicily and Sardinia in the late Middle Ages.