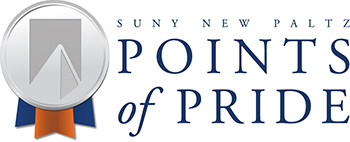 Amber Greene '03 advocates for citizens of NYC

After graduating from New Paltz, Amber Greene '03 wasted no time putting her public relations degree to work. Now, 11 years into her career, she's joined the latest incarnation of New York City government as policy director in the Office of Public Advocate.
"Oftentimes, policy is done in a vacuum," says Greene. "In my role, we try to look for those issues that don't get attention ... and try to just address the issue going on, and not make it political."
As policy director under newly elected public advocate Letitia "Tish" James (who is second in line to the mayor), Greene's office exists as a watchdog to help the citizens of New York City "cut through the nonsense and red tape" when it comes to addressing "failures in service" on behalf of city government. These issues run the gamut from neglected public housing facilities to overcrowded schools infested with mold and rats.
What drew her most to James, Greene says, was her shared commitment to many of the issues she felt strongly about – particularly affordable housing, which Greene was intensely interested in while pursuing her master's degree in public policy from Princeton University's Woodrow Wilson School of Public and International Affairs (which she completed in 2012).
"My whole goal of going to grad school was to figure out how to create affordable housing and reduce homelessness," says Greene. "I was really looking to get involved with the work (James) was doing. ... Her involvement to try to reduce the homeless population in New York City prompted me to really want to work for her."
Greene's first job after New Paltz was in Newark, N.J., doing environmental remediation for a brownfields project. She left that position to join the staff of the New York State Assembly as the public affairs coordinator for then-Assemblyman Richard Brodsky.
Greene then spent six years in city government working for the New York City Office of Emergency Management, where she directed the Ready New York campaign "to ensure the safety and preparedness of all New Yorkers" and initiated several disaster preparedness programs that are still functioning today.
"It was the best job," says Greene. "You wouldn't think disasters could be something that makes you want to go to work, but every day was different."
Following graduate school, Greene worked in Washington, D.C., as a communication consultant on educational policy, where she educated clients (including the Gates Foundation and other large philanthropic entities) on how to improve public education opportunities worldwide.
Upon returning to New York from Washington, Greene seized an opportunity to meet then-city mayoral candidate Bill Thompson when he spoke at her church in Harlem. She struck up a conversation with him, and a few months later, was offered a job on his campaign as policy director.
When Thompson's campaign ended, Greene pursued the policy director position in James' office.
Greene says her public relations degree from New Paltz prepared her immensely for her career, from being a spokesperson to "being mindful of trying to speak in sound bites" to "knowing the mic is always on." Extracurricular activities like the campus TV and radio stations taught her about the demands of media.
"In terms of my ability to do public speaking, that's something I learned at New Paltz by giving presentations in front of the class," says Greene. Her theories of persuasion course, particularly, taught her how to "bring people where you want them to be" through her words.
Greene says the late Margaret Wade Lewis (black studies) "was so instrumental in learning about my heritage as an African-American woman." She also credits all the help she's received over the years from Professor Patricia Sullivan, who she remains in touch with today.
"She is still my mentor," says Greene of Sullivan. "She's gone above and beyond, and I really value her friendship and advice."
Greene sees her continued engagement with New Paltz simply as a way to return the favor for all the help and advice she was given when she was a student. She returned to campus in 2012 to give a lecture at the Honors Center called "Making Connections: Academic and Career Paths Beyond SUNY New Paltz," and occasionally gives career advice to new graduates who call her for tips.
"People have always helped me, so I believe in paying it forward," says Greene. "It doesn't involve anything but time and commitment for me. That is what was given to me, so I feel it's important to do that."
---
Digital Media Alumni Win Top Honor at SUNYWide Film Festival
The Digital Media and Journalism Department is pleased to New Paltz alumni's grand prize win at the SUNYWide Film Festival, held in April 2014 at the SUNY Fredonia campus.
The documentary, "First Name: Jogger, Last Name: John," by alumni Kaleigh Griffin, Claudia Gallo, Lindsay Nimphius and Keri Sheheen, all 2013 graduates, earned Best in Festival. The festival was founded in 2009 as an opportunity to showcase the cinematic excellence of students and faculty from the SUNY system.
The 15-minute film, which was directed, written and produced by Griffin, tells the story of "Jogger John," a homeless man and former drug addict who became a Woodstock, NY treasure. Gallo served as cinematographer and co-edited the film with Sheeheen. Nimphius scored the film.
The young filmmakers were thrilled to receive the award.
"I wasn't expecting it at all and it came as such a wonderful surprise," said Griffin. "I can't wait to tell Jogger John. He's always so happy when I tell him about another accomplishment the film makes."
The project was created as part of the Seminar in Digital Filmmaking capstone course last spring. The documentary premiered at the Woodstock Film Festival and earned the Second Place Documentary award at the annual international Broadcast Education Association Festival of Media Arts in the spring.
View the trailer for the film here.
---
Kanter Featured on CNN for Work with Students with Autism
College of Liberal Arts and Sciences alumnus Mark Kanter was recently featured in a CNN segment for his work teaching students with autism to express their thoughts, desires, and needs, through the innovative iPad app, AutisMate.
Kanter earned a bachelor's degree in Communication Disorders in 2006 and a master's degree in Speech and Language Pathology in 2007. He currently serves as the Supervisor of Speech and Language for Middle and Upper School at the McCarton School in Manhattan.
Jonathan Izak, the creator and founder of AutisMate, allowed Kanter and his colleagues to demo the app, and was impressed by the school's work with students with autism. When CNN asked to feature AutisMate on its broadcast, Izak asked the school to select a student to appear in the program.
Joe, 18, had never spoken and expressed himself only by pointing. Kanter said Joe made "no real attempts at verbal language," and could become agitated in his attempts to get what he wanted.
Kanter and his colleagues introduced Joe to the iPad by letting him listen to music and audio books. Slowly, they began introducing basic requesting and labeling tasks, using the iPad as an augmentative and alternative communication device (AAC).
AutisMate uses photos, images and videos of users in their natural environments to help them request and choose, as well as execute a variety of self-modeling and self-correcting tasks.
Through his work with Kanter at the McCarton School, Joe became increasingly efficient at using AutisMate. In the CNN segment, he uses the app to order an Italian BLT with pickles and potato chips at a Subway located near the school. He also navigates his morning routine while watching videos of himself taking out the trash and setting the dinner table.
Kanter said he was thrilled with the segment, and "hoped that it would allow people throughout the country to see that there are lower-cost alternatives to expensive AAC devices that are rich with features."
Kanter credited the SUNY faculty for preparing him for his current position.
"Each of my professors at SUNY New Paltz came from such diverse backgrounds and were able to share experiences from such different realms of the field," said Kanter. "I feel that I'm constantly channeling that which I learned at SUNY New Paltz in my role today and will reach out to my former professors to this day with questions or when I have news to share."
He gave special praise to College of Liberal Arts and Sciences Professors Kathryn Burke and Andrea Abramovich. Burke, who coordinates the Speech and Language Program, served as a mentor during his student internship, and Abramovich, who teaches in the Department of Communication Disorders, provided a wealth of information about AAC devices and assessment during a SUNY Augmentative Communication course.
---
Contact Us
If you are an LA&S alum with an interesting career story, we want to hear from you. Contact us at lasnews@newpaltz.edu.